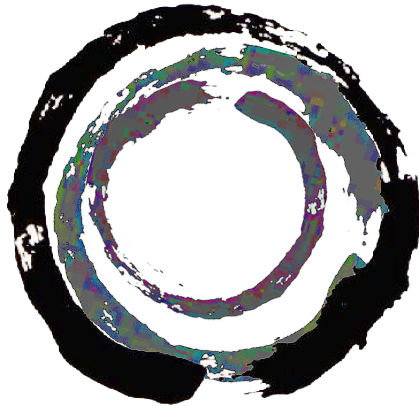 EDIT: This is the first ever appearance of Academic Reading Circles online. Some information, including roles, have been since updated in the book. Click here to see. If you use any information from this post, related ARC posts linked below, slideshares, or the book itself, please attribute it to Tyson Seburn, with a link to the related post, presentation, or book. Thank you!
My students very often tend to do the required course readings once, struggling not only with comprehension, but also relating the content from week to week. In order to both improve comprehension and dig deeper, this post is about pushing students to engage with the readings. 
One lesson I've tried to instill in new university students is that to understand material and get the most from a reading, you need to engage with it, like having a conversation where you go down various tangents, inspired by the original discussion, but always being able to bring it back.  Likewise, the more you engage with a reading, the less work you'll need to do later when using it as part of your research.
Giving examples or even practicing engagement in a class or two and expecting them to do it on their own simply isn't enough.  Learners need the skills broken down into separate functions to recognise and practice.  What do we do to engage with readings? How can they be divided into clearer, concise roles to practice before being put together? And despite strong encouragement, it's rare that any student will fully grasp how to engage even if they have the gumption to run with it on their own. This has been my experience.
Last year, my colleagues and I tried out a version of reading circles in the vein of Furr (2004) with the readings required by the History credit course our students concurrently took.  Though it seemed to help them understand the primary and secondary sources, in-class discussion infrequently moved into true discussion. With several factors potentially contributing to this, this year I kept the same general timeline, but determined that I'd control certain factors: 1) modify the roles to suit our students' needs and our goals, 2) require student reflections after the in-class discussions, and 3) choose the readings myself.


Each role needs really to serve two purposes: help engage with material and practice research essay skills.  With this in mind, I tweaked Furr's explanations of the role responsibilities a little.  I also added a few roles.  Interpreting, evaluating and integrating visual media from readings and into essays is a vital skill at this level. As a result, I added in a Visualiser role, along the lines of the Artistic Adventurer (Daniels 2002) .  Another change was emphasise critical thinking regarding bias, reliability and context.  In comes my Contextualiser role.  Finally, I collapsed the Word Master and Passage Finder into the Highlighter. Otherwise, the Discussion Leader, Summariser, and Connector roles are fairly self-explanatory.
I allow students to choose their weekly roles, exceptions: there must be a Discussion Leader and not same role twice in a row.  This gives a certain control back.  To do this, they update this Google spreadsheet so I can monitor more effectively.

A new feature added in this year is to reflect on the process each week before moving on. So far, I've given two groups the following points to consider and asked them to email me their reflection:
a) how your partners contributed to your understanding of this article
b) how critique of what you prepared helped you
c) how the extra help (I wrote questions to consider for each role on the board during the discussion to help students fill gaps in their preparation – EDIT: November 19 – see photos of my board at the bottom of this post) was similar to or different from what you'd prepared and what you could use to fill in your role
d) who was most/least vocal, why and what could be done to better manage the discussion next time
e) which role you think appeals to you the most and why
With one group, I asked them to answer all.  With the other, I asked them to reflect on all, but submit one they felt was significant to them.  Beware, the answers vary from the extremely wishy-washy:
a) As the Discussion Leader, [Joe] has led us to understanding this reading and we can get a common view of a whole group. As the Highlighter, [Mark] has shown us the main sentence of the article and explained the complex or topical vocabulary. As the Contextualiser, [Charles] gave us the background of the event.
to the more meaty:
a) …Thirdly, I want to talk about our visualiser, [Smith]. I got really surprised about things she found. Showing the picture about the how Haitian works in the Dominican Republic, map of the Haiti and Dominican Republic, and an introduction video about the film "The Price of Sugar", really helped me a lot. Because I didn't find these information when I want to find some information to better understand the article, I got surprised, especially the video. That gave me the visual impact how bad the situation is in Haiti, and helped me remember it better than just reading the words.
I collect these ungraded reflections and use them as examples to differentiate fluffy content from substance as well as see what the students themselves feel the value is.


It's great to have choice, especially when reading for pleasure, but when it's meant to practice certain skills for high-stakes assignments, I'd prefer to take the reins for the time being. Last year, our purpose solely was to have students understand the required readings of the History course.  This worked and it didn't (see above).  This year, we decided not to use the required readings themselves, but take another page from the reading circle roles, Connector, by choosing related readings that provide extra context, interesting connections, quotable ideas, and topical discussion. We'll use increasingly lengthy articles as time goes on and success at how to perform the roles increases.  I also plan to choose readings that demonstrate great personal bias, technically challenging vocabulary and increasingly complex, less obvious connections.
After the in-class reading circle discussion, I post next week's article on Blackboard as well as extra information (e.g. link to download the article, citation example, date of in-class discussion).  To enhance students' preparation, I often add links to extra material for the current article (see Week 8 example on the right).
Here are two articles my students have used so you can see an example of how they relate to the History reading/lecture of that week:
Week 8 & 9 History topics: The Haitian Revolution (1791-1804)
Week 8 RC article: Terral, Ben. "Haiti: the price of sugar." Review of The Price of Sugar, by Bill Haney (dir.), Global Research. November 19, 2007, http://www.globalresearch.ca/index.php?context=va&aid=7372. (download)
Week 9 RC article: Peguero, Valentina. "Teaching the Haitian Revolution: Its Place in Western and Modern World History." The History Teacher Volume 32, no. 1 (November 1998): 33 – 41. (download)
One final task is to submit a group report one week later.  This includes a formatted submission of what they prepared for their roles, as well as modifications based on the group discussion. Little by little, the students seem to be getting more and more from the readings. More and more their desire to investigate more autonomously is improving.  And I'm pleasantly surprised by many of their reflections suggesting something to the effect of them being helpful.
Here are two quick videos of students giving it a go:
1st Week – 16 students, mostly Mandarin-speakers

Week 2 – 28 students, mainly Mandarin-speakers, 1 Russian, 1 Indonesian

Some photos of guided questions during discussion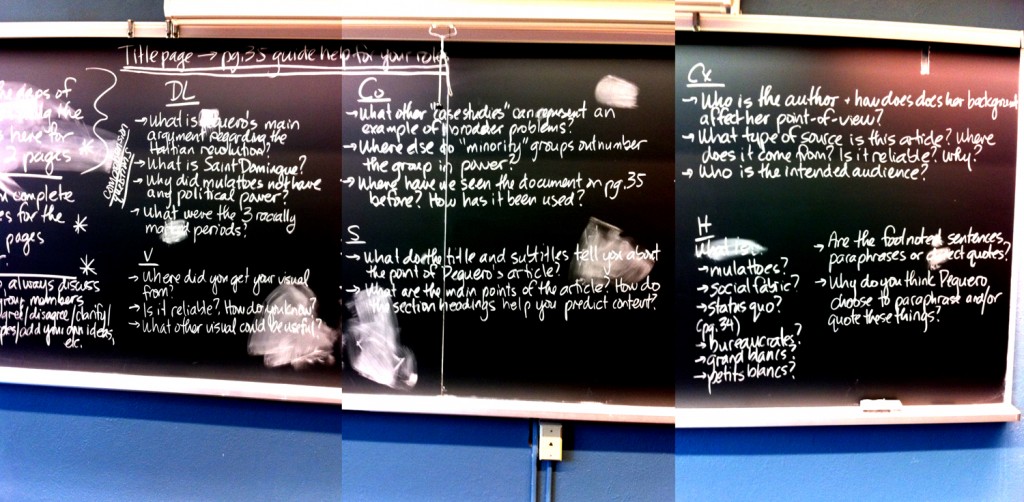 Works consulted
Daniels, H. Literature Circles: Voice and Choice in Book Clubs and Reading Groups. (Second edition). Portland, ME: Stenhouse; 2002
Furr, M. Literature Circles for the EFL Classroom. 2004. Available at http://www.eflliteraturecircles.com/litcirclesforEFL.pdf (accessed on November 11, 2011).
Shelton Strong, S. "Literacture Circles in ELT." ELT Journal 2011. First published online July 18, 2011 doi:10.1093/elt/ccr049 (accessed on November 6, 2011).
Related posts
ARC in practicum, a concrete example of how this activity worked in reality.
The interactions of ARC, which details interactions with instructor and each other.
The highlighter role, details of how this lexically-focussed role works
Context is important, a preview the Contextualiser role
Using visuals to represent concepts in texts, introducing the Visualiser role to students
ARC workshop slides, from #toscon12, #tc12 & #tesolfr