Over the last 5 years that I've been heavily involved with the online ELT community, it has been extremely satisfying to see the dramatic rise in participation at web conferences, online streaming of offline conference sessions, and types of synchronous Twitter chats. Webinar series–Shelly Terrell's for American TESOL Institute springs to mind as the go-to–continue to be the most frequent and widespread OCPD (check out the ELT Calendar for a bunch in blue).  Yet still, I know there are a number of teachers who have some apprehension about attending, let alone leading one themselves.
To this end (and because I have a passion for these things) I'd like to introduce more opportunity to engage in online CPD through a series of webinars, offered on a fairly regular basis, at different times for different time zones, sometimes led by people you know, sometimes (hopefully) by those wanting to give it a try. With added choice, I hope to persuade more of us to get involved online and share their ideas.
The first 4C in ELT webinar, thanks to the Webheads Community for the resources:
Abstract:
As we look back at the history of English language teaching, we can see a correlation between the trends in the most popular language acquisition theories of its time, and the application of such assumptions into the language classroom. Whether it be Krashen's 'Affective Filter' hypothesis translating into humanistic approaches such as De-Suggestopedia, or Searle's speech acts giving rise to the functional syllabus, practitioners have tried to apply theory to practice in a way that best helps learners to best acquire the language. But we don't always get it right.
Since the late 1960s, we've seen Hymes refute the focus on grammatical competence, highlighting instead the importance of communicative competence, we've had Michael Long talk about the role of interaction in language acquisition, and we've heard variations on Ellis's proposition that teachers should not predetermine the linguistic content of a lesson. We claim that we've moved into a communicative era of language teaching, but how far are we really from the grammar syllabi of the 1950s?
Interaction:
If you have any questions the bubble to the front of your mind beforehand, feel free to write them in the comments section and during the Q&A, should they not be discussed during the talk itself, maybe Chia will be able to do it.
Speaker bio:
Chia Suan Chong is a General and Business English teacher and also runs teacher training courses such as the CELTA and the Cert IBET, in addition to cultural training courses. Based in York (UK), she is a regular conference presenter and graduated with a degree in Communications Studies and an MA in Applied Linguistics and English Language Teaching. She is passionate about languages and is fascinated by the interplay between culture, communication, language, and thought. Chia blogs and tweets regularly for English Teaching Professional (@ETprofessional) and you can find out more about her at chiasuanchong.com and about.me/chiasuanchong.
Date:
Thursday, April 24, 2014 @ 4:00PM – 5:00PM EST (see your timezone).
The recording of the webinar is now available. Click here.
PS – A special thanks to Shelly Sanchez Terrell and BELTA for the inspiration.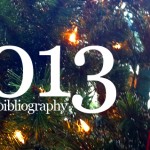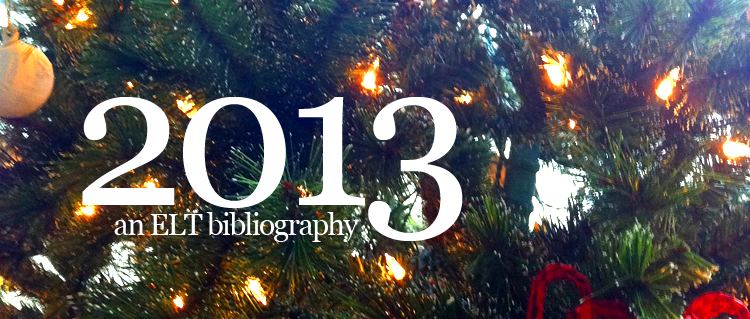 At the end of the year, I like to look back on a year's worth of blog posts, both my own and those that caught my eye by others in our community. It gives me a broad-picture perspective on the breadth of sharing, insight and dialogue that has occurred throughout the year. I'd like to congratulate everyone who puts their ideas into a public forum, for their courage, their wisdom and their contributions. So as I've done for 2011 and 2012, here are just a few noteworthy posts from others that provided me (and probably you) with ideas to consider (click on the headers to go to that post).


Beyond the slight gasp let out by all those who autotweeted this post (that was classic, btw!), Willy brings balance to the discussion (something we all should have had before scoffing) about Brazilian prostitutes being offered free English lessons by their association in preparation for the World Cup. Best line: "Do people condemn language tuition to executives of tobacco companies? … Are they doing any better to society than prostitutes? Well, they're all fucking someone in their own way, but draw your own conclusions."


A third of Mike's blog title is "rants", so you can expect a certain amount of discussion involving annoyances, yet done so in ways that don't come off entirely negative, but more in a 'right-on-brutha' fashion. In this post, as you can imagine, he aptly lists of 13 (just a coincidence, folks) industry irritants from webinar pre-registrations to Scoop.it links on Twitter to people not bothering to Google something before asking for help (ok, those are the three that irk me the most from the list). So stop the madness!


It wasn't difficult to agree with Li-shih's commentary about the divide between researcher and practitioner. Throughout my ELT career, research has seemed like this impenetrable haystack of academic-ese that wasn't worth sifting through to get to the useful needle buried within; what practising teacher has time for that?, I thought. More and more, however, I'm swayed to the side of evidence-based practice, beyond simply my anecdotes and intuition. However on spot these two may actually be, it's always thrilling to see validation somewhere else, and a growing acceptance to admit you might be wrong. Li-shih, here, addresses some of these concerns in response to Penny Ur's recent articles and keynotes on the subject.

Ann Loseva is a beautiful writer, though she may not admit it; and this is is one post she did in her blogathon for the British Council that opened my eyes to this truth. She craftily weaves together a commentary on "the tyranny of limits" through the example of Twitter, written assessment and the platform of the blogathon challenge itself. Since then, it's easy to notice this craft on each post on her blog, many of which I'd likely include in another list.



To be honest, through my current incarnation as MA student, research has been this omnipresent dark cloud looming over me; that's why it was difficult to choose between many of Divya's posts on research (others here and here) as each has shed new glimmers of hope, both through commiseration and inspiration. I chose this one, however, because of Divya's ability to both criticise and suggest how 'research' is used by those in our industry. If interested, you may also want to check out Russell Mayne's Evidenced-based EFL blog, like this talk posted here, for example.


Luke's one of my favourite people, as are a number of the people who commented on this post about how Pearson is on its way (or continuing its way?) to infiltrating all sectors of education on the grounds of measurable outcomes and transparent reporting. Correct or not, where this post rang home for me was the concern that one day coursebooks would find their way into the higher education EAP curriculum (have they already?), like they have through most private language school curricula. I prefer the autonomy of the teacher, myself.

It's valuable to read blogs outside ELT circles for the perspectives I get on struggles, triumphs and attitudes in other areas of education as clarity in my own thinking about our own industry often comes. Dr. Mewburn talks about a pervasive culture of dominant, aggressive and jerk behaviours among academics to those under them, suggesting it gets them further in their work environments and an (unfortunate) perceived relevance to being expertised. She, however, remarks that for this to change, it has to be rejected, where it currently isn't. This post gave me perspective on my own career trajectory, in terms of keeping my ego in check.


Though quite a short post, Sandy's concern about what ELT educators do when they retire provokes a hearty discussion in the comments section from many of us struggling in the same boat. It's a topic I've never seen directly discussed so openly on a blog, but one which we all know is a huge worry in our industry of low wages and insecure contracts. I say we all unite, open a massive joint investment account to contribute to and share it when the time comes.


Remember before that horridly overshared fox song, there was this wonderfully infectious public service announcement from Australia featuring cute characters setting themselves on fire and slicing themselves in half? If you don't, check out this lesson from Allatc, complete with video, handout and teacher's notes, which came at a time I kept wondering how I could use it in class.

One post I needed to read at exactly this time (you may notice a theme emerging from some of my chosen noteworthy posts), Laura shares some major lessons learnt through the process of completing her MA in ELT & Applied Linguistics. She talks about the use of literature, real research, effects on her outside life and a couple other things one truly should consider before taking on this enormous task. In the end, it helped me feel like I wasn't abnormal in my confusion.

Saskia is a colleague of mine at New College and starting blogging this year with an academic bang. In this post, she refers to how her children creatively negotiate the rules of games and 'hack' the way a toy was initially meant to be used in an attempt to thwart their own boredom, which she instead refers to as "an extended amount of time to do nothing and be free to explore and create out of the resources that surrounded them." It prompted me to consider how if students were given this time, what unexpected (and perhaps valuable) learning they may do together.

I cannot relate to why anyone bullies, let alone bullies someone so thoughtful, cheerful and supportive as Shelly. In this raw response to cyberbullying tactics of which she's been at the receiving end, it hit closer to home that the Internet has the potential for giving a perpetual voice of attack to public personas. And yes, it gave me pause, but Shelly shows through attitude and action how you can't let it defeat you.

During an era where a vast number of posts and articles nearly entirely focus on the learner, the learning process and how to engage all learners, Ken's post lauding the teachers themselves and their efforts was a refreshing read. He doesn't argue that ultimately what it comes down to is the learner, but compares much of the attitude and effort of learners with that of the teachers they (may not) engage with. Hear, hear.
Other notable contributions to ELT blogging in 2013 who deserve a mention:
Nathan Hall on ELT Reflections -
a tireless string of single-word titled posts that relate outside experiences to ELT topics.
Kevin Stein on A Whisper of Gratitude -
part of a trio of recent JALT conference-goers who touched me with how they connected.
Vicky Loras & Eugenia Loras on The Loras English Network -
very proud of the continued dream-seekers on their new, meaningful ventures.
Scott Thornbury on An A-Z of ELT -
an era came to a close this year with Scott ending his run on my favourite blog ever. Sad days for me.
Joanna Warden on Teacherpants -
a colleague of mine who is jumping into blogging this year; great things are to come in 2014 I'm sure.
Beyond all of these were the ELT posts not written during the uprising in Turkey in midyear. I was deeply affected by the numerous social media updates from my ELT friends teaching across Turkey, too numerous to mention throughout this bibliography. It's the first time I really felt thoroughly touched by the power an event like this from across the world, thanks to the internet and how media can and CANNOT be controlled. It was during this hiatus from blogging that Facebook and Twitter proved to be the avenue for first-hand accounts of the tragedies that the world wasn't seeing through traditional media and demonstrated how vital these avenues are for the transmission of information. I worried about my Turkish students, who'd returned to their country for the summer break; my friends and colleagues like Dave Dodgson and Adam Simpson; and all of the citizens who stood up for their beliefs. I admired them and tried my best to support from afar.
2013 has been quite a year for the ELT blogging community. Cheers to all for a happy, healthy and safe 2014. I look forward to compiling the list of 14 for next year.
So, on to part two of me talking about myself, thanks to Carol Goodey, Shelly Terrell, Divya Madhavan and Michael Stout. In this instalment, I'll be answering questions she posed to the 11 bloggers she tagged, asking some of my enthusiastic PLN to participate and asking them 11 questions. Are you one of them? But first, back to me.

Edit: This has become the most self-indulgent post ever, so hope you enjoy.
Carol Goodey's Questions + My Answers
What do you most enjoy about blogging?
I like the opportunity it affords me to write. During this process, I gain clarity into how I think about a particular topic, whether I expect it to or not. There's truth to the idea that what's in your head doesn't make so much sense and articulating it to others improves this.
Do you play a musical instrument? If not, would you like to? Which one?
Yes, I play piano moderately well. The adverb likely would have been 'extremely' when I was a kid, but I haven't touched it since my song-writing days of yore.
How far do you travel to work? How do you travel?
I purposely live near where I work. I can walk to work in about 20 minutes along a straight line that consists of a major road, under an overpass, past two Harry Potter-esque university buildings and through a small pathway covered in foliage. Despite this, I often take the bus that goes along most of this route in winter, and a share bike service in summer.
What do you enjoy most about the work that you do?
I both coordinate and teach in an EAP program. My favourite aspect is teaching how to deconstruct texts. A very, very close second is formatting assignment documents that I've contributed ideas to… in my gorgeous office.
What was the first thing you ate today?
Previously I mentioned that I eat an ungodly amount of toast. Today's included butter, peanut butter and raspberry jam.
If you could travel anywhere, where would you go? Why?
I can never answer this question myself when talking about where to go on vacation. If transporters were involved, I'd pick Hawaii.
What month next year are you most looking forward to? Why?
August, because that's when I'll have submitted my dissertation and that part of my life for the last three years will finally be over.
What meal do you prepare most often for friends?
I can't remember the last time I cooked for friends, so nothing. I am fairly good at suggesting Thai delivery.
What was the last movie you saw? What did you think?
Gravity. Though it was little dizzying at first, the rest of the movie was shot beautifully, had ample suspense and emotion.
What three things do you like to have with you when working?
This depends on what I'm working on and where. Ideally, my laptop, my TV and a good friend.
What do YOU think about reality TV shows?
I love reality TV. It's predominantly what's on said TV when I'm working in the evenings. It doesn't take concentration, but is consistently entertaining. Favourites include Survivor, Big Brother, Amazing Race, Biggest Loser, Income Property, Live Here Buy This and House Hunters International.
Shelly Terrell's Questions + My Answers
What is a goal you hope to accomplish from your bucket list?
One goal – publish the ARC book with the round. It's been in my list of projects for over a year now and though things have progressed, it's something I'm getting at very, very slowly because of other demands. I love the round. I love Luke & Lindsay and just want to devote my time to this, but I can't.
What is one goal you hope to accomplish in 2014?
I would like to feel happy about what I produce for my dissertation. It's been a huge struggle these past few years, both in terms of motivation and time. It's due in August, so here's hoping it's good.
If you could host a reality TV show, what would it be about?
I'd host one like Survivor. To go to tropical places for 2 months to shoot a show where people do challenges and live with no luxuries while you stay at a resort. Sounds perfect to me.
How do you blow off steam?
Posting my frustrations on Facebook tends to make me feel better, especially when others commiserate.
What is one of your personal theme songs?
This has come up during your 30Goals and it was hard then. I don't really have any theme songs. I love many songs, but not any I listen to for motivation or inspiration. This first one that comes to mind though is Eel's Mr. E's Beautiful Blues, but mostly because of the chorus, which makes me say you know what, it is a beautiful day!
What are you incredibly proud of accomplishing?
My career progress in the last 5 years. It went from a rut as a private language school teacher making nothing and knowing no one to a dream job at University of Toronto, both coordinating and teaching, as well as president of TESL Toronto…not to mention the amazing friends and contacts I've gotten to know in the industry through this blog and other social media. It all just took a decision on my part to want more.

What was one of your favorite gifts?
The best gifts for me have been a comic book I've coveted that has been officially CGC graded and encased in airtight seals. Otherwise, dinner out. ;)
How have you dealt with a past failure?
There are no failures, unless we're talking about scores during university. I guess I don't consider failing as possible.
What is one piece of advice that has helped you throughout life?
My grampa, then my mom, always said "this too shall pass" whenever something's got me down. And it's true.
What was your favorite toy when you were a child?
I collected stuffed animals when I was little. I had so many that I used to arrange them as a class that I would teach (I also had a blackboard in my playroom). My favourite was aptly named, "Bunny".
What's your favorite piece of art?
Not much of an art fan. I just don't really get it. Galleries typically bore me. But I'd have to say my favourite is hanging in my office. It was painted by my partner. It looks like a dark cloud, with black drips from it, and random Korean characters in white.
Divya Madhavan's Questions + My Answers
Do you like country walks?
Yes, I like walking through the woods or around the northern France countryside (did that with Margaret Hurley & Ian Kang last November after TESOL France). I had a special connection avec les vaches.
If you could choose between a chocolate and a non-chocolate dessert what would it be?
I would choose cookies, non-chocolate. I love cookies, particularly peanut butter.
Do you have a preferred variety of house pet?
Over the last 13 years, I've had puppies (the amazing Rocco and now the beautiful Loulou), so I'll have to go with dogs, though for many years before that, I always had cats too.
Do you think lemon tart is better with or without the meringue?
Without meringue, it's just a bunch of yellow goo.
If you had time to blog about something other than education/ELT what would it be?
I used to blog about how ridiculous I found things in the world, general stuff. Included in that was also countdown lists of the best albums each year and my weight loss through the Wii. So more stuff like that. Witty, of course. Come to think of it, however, I have a blog for each of my puppies. One for Rocco after he passed away last year for cathartic reasons. One for Loulou as a type of baby-book.
What is the next language you'd like to learn?
I have a certain pull towards Dutch. I'm unsure why.
Do you think salted butter caramel is better consumed hard or soft?
Um. I have no idea, but I generally like chewy things vs crunchy things.
Have you ever had to write out a minute-by-minute lesson plan?
During my TESOL training, it was required to write out these types of plans. When I used to create centralised lessons for the private language school I worked for, I also did that.
What is your favourite French pastry?
Isn't it all good? Honestly I can't say really because I'm not familiar enough with all of them.
Have you ever been observed teaching? How much?
I have, but it was long, long ago. I do feel like I'm observed a lot by other teachers when giving workshops though.
If you could spend a year focusing on research, what would you research? Why?
Ugggh. I'm at that point in my dissertation, as you are well aware. ;)
Michael Stout's Questions + My Answers
Why did you become a teacher?
Since I started school, I'd always wanted to be a teacher. Of what? Unsure. I just loved school and being the one who leads a class appealed to me. Teachers were always so knowledgeable and I envied them. When the opportunity presented itself as language teaching, I took it.
Do you do teacher research? Why, why not?
Aside from very informal action research, not so much until I started my MA. Now that I've been back in the university environment (both as student and teacher) for some time, I've been more and more convinced that evidence and research is valuable.
How important is music to you?
I adore listening to music, mostly pop, be it electropop or folkpop. It gives me an insurmountable joy when a song has that perfect combination of instrumentation and catchiness. I can't imagine being deaf.
Where is your favourite place in the world?
Though I would have said Hat Rei Lei in Thailand for many years–just stunning beaches, treehouses and waters, but I'm not sure I could live there, maybe it's my favourite to visit. Otherwise, I don't really have a favourite place.
Do you eat to live, or live to eat?
The former. I like food and eating out, but it doesn't drive my days or anything.
What's your favourite word?
Hmm, my first instinct would be to use an expletive because of how it feels coming out, but I'll refrain. At the moment, I am going through a "behoove" stage, the word used when we want to indicate that an action to do is in our best interests or has become our responsibility. I also like the way this word sounds–a driving force for my love of words.
Can you share an "あそうか!" (Eureka) moment with us?
When I was 33, a lightbulb just went off in my head to finally put all my efforts into growing as a professional and improving my career. Until then, though I'd loved teaching, I hadn't really committed to it as a profession. It was something I was good at, but not something I felt devoted to more than other hobbies. At 33, I realised that if I ever wanted to be stable, expertised and live comfortably, I had to focus my attention on one thing.
Can you give us an example of a time you learned something from a student?
I have learnt about culture from students more times than I can count. I think this is what I take away from them more than anything else. And it's never remaining the same. As much as I think I may know Brazilian, Korean or Chinese culture, the next generation is a little bit different.
Where do you want to be in five years?
On the Sunshine List (I may need more than one source of income). ;) Otherwise, right where I am, but maybe with an office on an above-ground floor instead, a newer condo and a published book.
Can you paddle a canoe?
I haven't tried in about 25 years–the last time was in Muskoka–but I think I could pick it up again fairly easily.
What are your favourite novels?
Margaret Atwood: The Year of the Flood, The Blind Assassin, Alias Grace
Haruki Murakami: Hardboiled Wonderland and the End of the World
Arthur C. Clarke: Rendezvous with Rama, Rama II
Robertson Davies: The Deptford Trilogy
On to the next section…
As part of this chain challenge, I'm going to mention 11 bloggers that you should check out and tag them here. If they're avid readers and/or savvy on their blogs, they'll realise they've been tagged. If it's you, feel free to ignore this or participate. It's completely up to you.
PS – I pity the popular bloggers who've been tagged in this challenge multiple times, so I've attempted not to tag anyone who's already been tagged somewhere.
PPS – In an untimely turn of events, a good number of my blogging friends have decided to participate in my MA research…on blogging, so I've not included them here either, as a thank you. ;) But if you ARE one of them, feel free to take this blog challenge on too. ;)
My Questions to Others
So, here are your questions, straight from my cerebral cortex (I think):
You have 5 minutes to rescue one of your blog posts from oblivion. Which do you pick? Why?
How did teaching become (part of) your career?
Aside from weather-related impressions, how does Canada come across to you? If you're Canadian, how do you think we come across to others?
What career path could you have easily gone down had teaching not worked out?
What characteristic of your Chinese zodiac animal sounds like you?
What do you vastly differently now than when you were a new teacher?
What book have you wanted to read but have never gotten around to it?
Out of these options, the best class size is… 1 student, 5 students, 13 students, 24 students, 50+ students.
Does your middle name have some meaningful significance, if you have one?
You will give a workshop to your colleagues. What would you feel comfortable leading a session on?
How do you feel about carpeted rooms in your house?