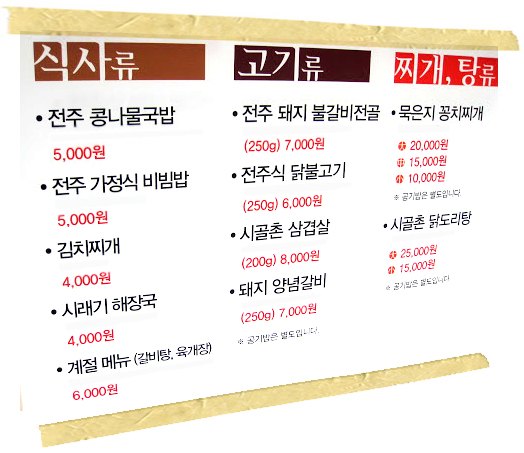 What is this? Does your language intuition and cultural expectations meet in the path of understanding?  Without context, it can be a little challenging.  Imagine this all around you. It was this alien experience, like living in some alternate reality, where I had my first experience with language workout.  Korean.
How it all began
But there's more to this than meets the eye.  My affair with this country began when I was in Grade 7.  It was then that the upcoming Olympics were to be held in Seoul, a place little looked upon by the world let alone a 13-year-old.  Fascinated by the sports more than the country, I chose the Seoul Games as my project for, believe it or not, French class. I learnt much about Korea, presenting about it and the Olympics in French.  Out of all possible project choices, why Korea?
Shoot ahead 9 years to a year after  my undergrad, I chose to travel on an English-teaching contract to Seoul.  Surprisingly, there were very few resources in 1997 on South Korea in my local library, despite the fact that its Olympics had long past.  I'd found one book from 1987 that included a very basic introduction to key phrases in Korean, so I knew how to say hello phonetically, ahn-nyoung ha-say-yo (it didn't take long to drive home the maxim that book language and spoken language are vastly different).
An alien in an alien land
Needless to say, I landed in Seoul almost 100% linguistically blind, deaf and dumb. For the first time, I was in a place where I could not orally communicate unless someone tried to communicate with me first.  I was faced with a language that didn't use the alphabet I was used to–it wasn't clear if it even was an alphabet or pictograms.  I was like a toddler, unable to recognise any words on signs, understand what the 'grown-ups' were talking about, or say what I wanted to the general public.  Only here and there was I thrown a bone, with an Romanised place name on a subway sign or an adventurous stranger who wanted to practice their English.  So, as a newbie in a foreign land, where was I to start?
Breaking the code
What amazes me is that our minds are amazing tools, striving to make sense at all times. Since I took the subway to work everyday, I had a lot of time to stare at billboards and signs on the platform while waiting for the trains.  It wasn't long that I started paying closer attention to the Romanisation of the subway stop names, and patterns seemed to emerge.
Look at the first character of these two stations. Can you guess what sound it might make?  Now look at the following sign, can you find where that sound occurs?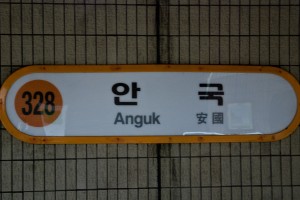 How about this one?
Not quite as easy without the English alphabet guiding you below it, is it? If you've figured it out, congratulations! It takes a little critical thinking to realise that you can't count on typography to be consistent from sign to sign. If you didn't get it, look again for a similar character. I'll tell you at the end of this post.
It took me about three weeks before I'd really figured out how to read the characters with fairly good consistency.  And I practised sounding out signs in my head, then reading them aloud to increase my speed.  Though I never became a fluent speaker or even a particularly accurate one, I did learn a lot in a relatively short period of time and completely without any formal instruction.
Learning without instruction
So, HOW else did I do it initially?  I picked up important expressions by listening to others in a particular context and then confirming the phrase I'd heard was what I thought it meant with students.  I improved natural pronunciation by copying what others said.  I put myself out there, took risks by trying to use the phrases I'd learnt with taxi drivers, store clerks and subway ticketeers as much as I could.  Bravery is key.
WHY did I learn it when many other language teachers didn't try at all?  I didn't want to be one of them.
So my experience with total immersion in a completely foreign language began with a project in a language class; it drips with irony.  It's been almost a decade since I left my life in Korea, but I'll be forever tied to the language and its culture.  Now I want to take a trip back to visit.  Thank you, Brad Patterson and your blog challenge.
So what was that character and sound?  Check it out here.
 Related reading: Turnings in your story