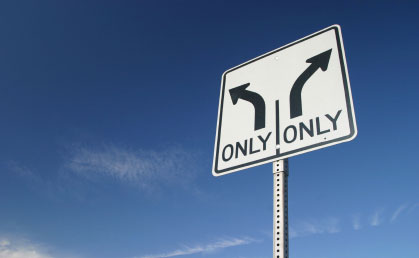 Do your colleagues know much about your language teaching background beyond a list of qualifications and positions of employment? Sharing where you began, your process of growth, and goals for the future can help inspire, foster and contribute to growth in members or your community, not to mention build a connection to individuals where there may have been little before. I hope sharing mine supports one of these.
Turning points in life tell a lot about a person: what conditions brought them to that point, what exactly the turning point involved, how they changed afterward.  In her post, How Did She Get Here in the First Place?, Vicky Loras addressed a very emotional turning point in her professional career–closing the school she co-owned in Greece and moving to Switzerland.  For me, there are three major turning points in my language teaching career that have significantly contributed to who and where I am now, as well as formed my goals for the future. In this post, I'll focus on what conditions brought me to these points and maybe you'll identify.
In 1997, I was a recent university graduate, aimless in a direction for my life.  I spent my days staying one step ahead (in computer skills) of students at the private computer college I was facilitator at.  I enrolled and subsequently dropped out of a second degree in Computer Science. I spent my evenings hoarded away in my room, barely socialising with anyone except my TV and computer.  I knew change was needed to give myself a new environment and new purpose.  Teaching English in Asia was growing in popularity for new graduates at the time and one day in December, I decided to do it.  On January 28, 1998, I boarded a plane by myself headed for Seoul.  That day changed the direction my life would take forever.
Ten years later, in late 2007, I'd been working for a visa school in Toronto as a language teacher for 4 years.  Although I enjoyed the job itself–there was a certain curricular flexibility that suited me–I was barely making adequate money, on an hourly basis, with no benefits–an altogether too familiar scenario.  I'd been putting off taking the courses needed for appropriate certification in Ontario, mostly for financial reasons.   I faced a crossroads: either I buckled down and got the accreditation, without which one would almost certainly never secure a good teaching position outside of this echelon of schools or abandoned this industry and try something different, which would involve a complete startover.  In December 2007, I signed up for part-time TESL training.  That decision changed the future roles I'd take forever.
From May 2009 to January 2010, I worked as manager of English Central, an ELT book distributor with a retail location in Toronto that sold books to the public.  I spent my days gladly learning about all the resources available from various publishers, working with authors on monthly webinars we hosted about their titles, and helping program directors with their decisions on books for their teachers.  My ELT world expanded ten-fold and I built relationships with many educators I still have today.  Though eventually I'd return part-time at English Central at the end of the year, I left because of the trickle-down effect on us from the collapse of the American economy in 2009.  That position and its subsequent push changed my level of involvement in our industry forever.
If you relate to any of these circumstances, you can always talk to me about it and I'll be happy to tell you about my experiences in more detail.   One day I'll follow this up with how these changes impacted my life so deeply, but just know that the change is worth it, even if you didn't plan on it.  Don't be afraid of the jump.
---
How was this post inspired? Many times in the 2 years I've known Vicky Loras, she's alluded to her experience with a school she co-owned in Greece, almost always accompanied by an emotional response–one that clearly demonstrated a deep caring for this school, her teaching staff and the students. Now, she's teaching in Switzerland and so the transition between the past and present was a mysterious one, until she responded to my request to share her story.  Now, she asks us to tell more about our language teaching stories.