Man, it feels like I've been completely out of the loop for a year. I guess it looks that way too. I still exist, I swear. Sure, for most of 2014 I was subsumed by my dissertation (or at least its grey cloud looming over me), but I wasn't completely lost to everything. I managed to become captivated by Serial (more posts on this later) and even binge-watched a few seasons of Downton Abbey (no posts on this later). What matters here in the present, however, is my annual rundown of reading that got to me this past year–proof I did actually read things other than Community of Inquiry research.
Adam Simpson's EAP Infographics (edited out due to malware)

It would be horribly remiss of me not to give credit to Adam for his useful new EAP site. He combines relevant academic vocabulary with clear examples of usage and meaning in infographic animation form. I like this post in particular, Reporting what someone wrote, mostly because it was so directly relevant to academic writing my students were doing at the time. Plus, the simple volume of material Adam publishes is astounding.
Marek Kiczkowiak's TEFL equity advocates

When someone stands up for their beliefs, especially when they promote inclusion, tolerance and acceptance, I can't help but applaud. On the same wavelength as individual posts here and there about the discrimination non-native English speaking teachers face in employment in our industry, Marek's connected a number of advocates for the cause to combat this. In times where organisations sometimes hesitate to endorse yes/no positions, this one deserves better.
Russ Mayne's E=MC Hammer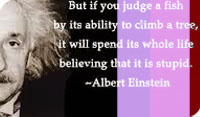 I can freely admit that I often create lessons using my spidey-sense teacher intuition, which I justify based on years of classroom experience. While it sometimes works out, my year of camping in the research jungle edged me towards the evidence-based side of the tent. Russ' blog includes so many discussion points for us as a group sometimes directed by well…less than sound beliefs. This is one of my favourites from the year because it directly relates to the plague of star-studded Facebook memes I see shared as though they are gospel, when in fact they are just bogus. It reflects our willingness to spread and accept misinformation at face value through social media. The stakes aren't always as harmless as one might think. PS – you might want to check out Geoff Jordan's post too.
Lindsay Clandfield's Six Cool Tropes in ELT EdTech

Continuing the ideology from Russ' post, Lindsay lays six recent prominent (but tired) arguments about educational technology out there for what they are: plausible at first glance, wrong (at least partially) when actually considered.  Example: Young learners are digital natives. Teachers are digital immigrants. Uggh. I used to be the young learner in this argument in my youth. Now I'm on the other side and am appalled when someone younger than me thinks I'm naturally a luddite. Besides, I have a whole whack of students who can't navigate Google docs intuitively, yet I can. 😛 Thank you, experience with and interest in the progression of technology.
Maria Konnikova's (The New Yorker) I Don't Want to Be Right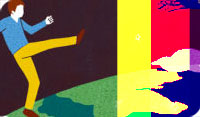 Further to this critical thought, The New Yorker pulled this one out about why, despite mounting contrary evidence, we insist on upholding our beliefs. Here's the kicker: "When there's no immediate threat to our understanding of the world, we change our beliefs. It's when that change contradicts something we've long held as important that problems occur." Hello! By the way, if you're a Star Trek fan, I recommend this one, where an alien race decides to press charges of heresy against one of its scientists because his research contradicts their entire belief system.
Anthony Gaughan's Where are all the unplugged teacher trainers?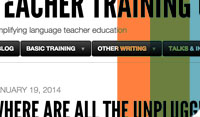 I don't usually get pulled in by dogme posts. I'm not sure why. I think it's probably on the same level as any discussion pointing heavily towards the virtues of any one approach/style/whatever, which tends to prickle the anti-extremist hairs on my arm. Anthony's unique (to my knowledge) teacher training angle drew me in. It all made me wonder why dogme is dogme and not just teaching; why CALL is CALL and not just teaching; and what the appropriate readiness is for new teachers to attempt this teaching thing…
Mike Griffin's Two quick (and cool?) location-based ideas ...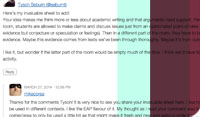 Dear Mike – I could have included any number of your posts from the first half of this year including a guest post about conference presentations that kicks ass (but somehow to do so seemed wrong). You're prolific. You're entertaining. You're appreciative. You have some of the longest post titles out there (rivaling you here). Much love, Tyson. Dear everyone else – Read his blog. For example, this quick post gives two easy-to-do classroom activities that utilise the room's space for meaningful purpose. It made me think of how to make one part of my EAP classroom the i-can-say-anything-i-want-without-backing-it-up side and another part the i-have-to-make-claims-i-can-back-up-with-evidence area. PS – I didn't get around to reading much in the second half of the year.
Writing for Research's Academic citation practices need to be modernized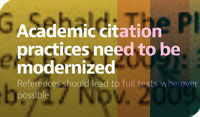 Coming from someone with a fair amount of experience navigating the citation practices across a few disciplines, I've yelled at the minutiae included style guides. I know there's a reason for everything, but as a mirror to much academic writing: it isn't obvious.  It all seems far too needlessly complicated. This post nicely gives some reasons to update (e.g. the irrelevancy of publication cities, uggh…) and suggestions on how. Still, we have a ways to go.
Bored Panda's 40 of the most powerful social issue ads…

While ELT certainly is not on Bored Panda's radar, this collection of very compelling advertisements brings attention to social issues that have seen their share of advertising campaigns, like racial profiling, deforestation and drunk driving. The difference here is so many in one place–many shocking, many with such effective clarity–raise my heart rate and make my brain race with urgency to share with students. Who says we should stay away from issues in language classrooms?
The round's Academic Reading Circles by Tyson Seburn

The one piece of writing that has had to take an unfortunate backseat all year to my dissertation is my inaugural ebook, which will be published by the round. This has been a long time coming (I'm thinking in TESOL France 2012 it all began!) and Lindsay's been ever gracious with accommodating my delayed after delayed after delayed timelines. The one good thing about taking this time is that between its inception and now, I've learnt so much about process, I've seen my writing transform for the better (I hope) and have been inspired by posts like those above. Trust me, you'll know when it's done (before IATEFL?). Until then, you can get a taste from this, my favourite post of the year.
To all you other aspiring/inspiring ELT bloggers out there, my hat's off to you for your work this year. I struggled to keep up. I look forward to rejoining our community in 2015.