Currently viewing the category: "EAP"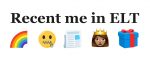 It's been a little while without a post… I'm sorry to myself most of all because writing for 4CinELT merges two important practices for me: academic writing for a wider audience and reflective writing. I need both of these to keep going for my own growth and mental health, frankly. I'm slowly working on […]
Continue Reading

→
One grammar point that comes up again and again in academic writing class is the misuse and overuse of dependent clauses. My students commonly include sentence fragments, forget dependent words i.e. relative pronouns, or attempt overly complex sentences with clause upon clause upon clause. While at higher levels, they know grammatical principles on how […]
Continue Reading

→
If you haven't read Part 1 (setting up assignments together) or Part 2 (explicit connections between disciplines), please do so now.
In this last post of the series, I will discuss the results of this collaboration of assignments with our first-year History professor. In particular, I will […]
Continue Reading

→