Essentials in my instructor room: a nice desk, a filing cabinet, a computer with internet connection, a printer, and other teachers.This is my desk at the university. Is it important for teachers to be altogether in one office? Does it make more sense to physically separate teachers of one program?  At what point does collaboration become hindered by the number of teachers working in one space? Should each teacher have their own desk or share one large table? Is it necessary to have a teacher room at all? Sometimes you take for granted that every school (no, every teacher) has the same concept of what makes a good working environment to plan, collaborate or relax in.  That's clearly faulty thinking though. Not everyone shares the same values or preferences.
I think of my own experience in two different schools I've worked for: one had two instructor rooms, one with 8 teachers in it and a smaller, newer one with 4; and one with 1 instructor room where all 6 instructors shared the same workspace.  This simple infographic describes the basic advantages and disadvantages I see with either setup.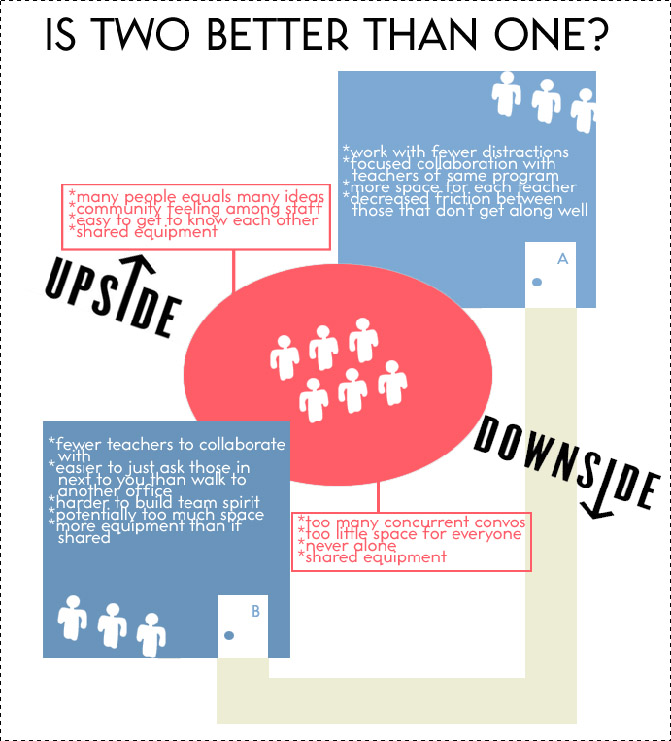 I can't definitively make the call which is better, more efficient for all teachers' needs or most desirable and I am willing to admit that different people have different working styles, so I can only suggest which I prefer.  What I do know is that the separated blue rooms impede the strong sense of community among teachers and reduce the amount of potential collaboration among the people in that community, just by proximity alone.  It potentially disconnects half the group from the other half, if equally divided in the first place.  That said, if the number of teachers employed surpasses the fulcrum number of crowding, the meaning of these statements becomes converse.