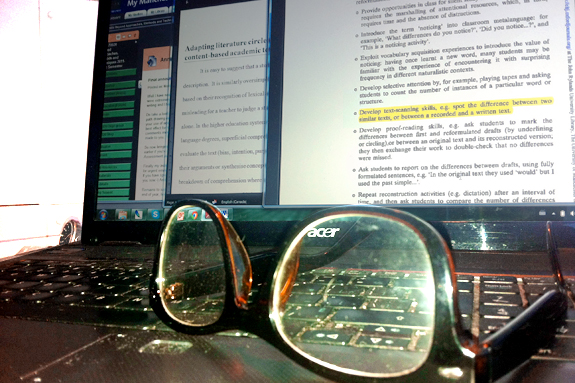 I am enrolled in the Educational Technology and TESOL MA distance program at the University of Manchester, currently finishing up the first semester of Year 1 of a three-year program. It's a reputable program, with several of my PLN having done or already doing it. It's one of the only distance programs rooted in technology.  This is why I chose it. But buried deep into my first assignment, I find myself questioning my choices, motivation and abilities to do this successfully. Hence, I'm compelled to put my thoughts here so I can reflect on them more tangibly.
I have wanted to do my Masters for many, many years now. On one hand, I wish I'd gone into it straight from my undergrad, when I was young and with more time on my hands.  However, I wasn't the best student, nor did I know ELT was the field I'd go into. I'd likely have gone with Philosophy, leaving me in the same position I'm in now–lack of graduate qualifications in ELT. Still, my experience so far gives me pause for several reasons, reasons which I feel I need to reflect on in order to push me to carry on and be successful.
Am I in it for the right reasons?
In our qualifications-driven society, sometimes I wonder what's more important: having the qualification or the learning that can come from it?  With this degree under my belt, professional opportunities, not to mention professional credibility, greatly widen. Honestly, I've been fortunate to get where I am already without the MA letters behind my name. Like many, I am divided over what the purpose really is.  Is going through the motions to get the piece of paper enough? How much do I want to get from this distance program? It's hard to admit, but I really think it's 60/40.  Certainly my undergrad knowledge has largely faded into the depths of my mind. I REALLY want to learn. I REALLY want to engage myself in my own improvement. I REALLY want to enjoy this process.  But there is that part of me that sees this as a means to an end, which does weigh heavily on my heart.  I suppose if the qualifications really were most important to me, I could have chosen a shorter path to getting them.
Plan of action: Recognise that both are very important and that one without the other is only a partial success. Ask myself, when all is said and done, do I want to look back at these three years as a blur, like I already do with my undergrad or do I want to feel confident that what I've learnt I can put into practice in my future professional endeavours? Surely the latter. 
Does this distance style work for me?
During my undergrad, I attended all the classes I was supposed to, participated in class discussion and took notes during the lecture. However, my homework style wasn't great, procrastinating on readings and assignments until push came to shove. In this distance course, we are given teaching texts to read by the 'lecturers' (or 'tutors' for this purpose) that replace traditional lectures, a few preselected articles or book chapters (e.g. Hedge, T. 2000. Teaching and learning in the language classroom. Oxford: Oxford University Press.) and interviews between tutors about the reasons they chose certain articles. On top of that, signposts in the teaching texts urge us participate in online discussion using Blackboard's forum platform. Additionally, we are given links to 20+ extra readings on the unit's topic (books chapters, journal articles, etc.) for optional further reading. The discipline required to complete everything on my own in a timely manner is definitely a mountainous challenge.
How do I balance the course workload with my life?
Before going into this, I didn't really grasp how hard it would be to fit in the demands of the course with the rest of my responsibilities. When you prepare lessons for university students, have meetings about students and curriculum, mark student assignments and actually teach classes, it's really hard for me to find appropriate times (or better described, 'desired times') to do the readings for the MA course. At lunch? Forget it. Directly after class? I'm distracted by lesson planning, marking and conversation with colleagues. Let's not forget things I actually want to do, like reading blog posts, writing blog posts and socialising with all of you.  Then there's the attraction of well-written (and trashy) TV shows. Ahh yes, then my family life goes in there somewhere too.  Add to this that 90% of my distractions are ELT-related, I find the thought of reading academically-written ELT articles and trying to absorb them beyond simple comprehension exhausting.
Plan of action: A colleague of mine told me that when she did her degree, she had to go to the library to study for a few hours each day after work–home had too many distractions.  Yes, I concur. I will make use of the study spaces at UofT this semester on a schedule.  Additionally, I need to set up a better work environment at home, like utilising the office den I have instead of using my laptop in the living room.  
How do I replace the live interaction I'm missing?
I really enjoyed going to lectures and seminars during my undergrad.  I've always enjoyed sitting with peers and discussing course topics at philosophical depth and for hours on end. I miss this aspect in the distance format. We're expected to participate in forum discussion on Blackboard, but it's just not the same. Besides, when I've done the required readings and go to the forum, many have already written an overwhelming number of eloquent (and not so) posts.  Meaningful dialogue is hard to obtain here.  On one hand, I wish there was more of a 'live' discussion aspect to the topics. On the other, I wish there were fewer people so that a smaller, supportive community feeling would result. I did initiate a small group meeting in Google Hangouts with a couple people every week, but by the time that started, we were reading different things and soon were assigned new peer groups with people I'd never 'talked' to so the camaraderie was missing.
Plan of action: Initiate the study group earlier in the semester with a stronger plan of how to utilise the group.  Knowing others are relying on me to prepare for our meeting motivates me. 
How do I choose and accomplish the amount of reading there is?
I fully admit that I've never been a good reader.  I've never been fast. It takes me a long time to read one article (e.g. 30 pages) and really absorb the ideas in it. I get distracted by, bored with or lost in the sentences after a few pages, even with fiction. I think that's part of the reason I've loved reading blogs, because they're a quick, manageable length in a tone that is easy to follow and respond to.  What's ironic is that I focus on reading and writing for EAP focus with my 1st-year students, but they are usually shorter, less complicated topics. This must be why the lecture and discussions from my undergrad appeal to me–maybe I'm more of a visual/audial learner.  Having said this, I appreciate being forced to read fundamental texts, ideas from which I've referred to frequently but never read directly myself. I have become more aware of how one author's ideas relate to another's.
Plan of action: In lieu of there being a video or audio book for the types of readings required, I have to figure out how to read more quickly. I'm hoping that the time in the library will focus me more on the text than on my surroundings. 
Did I choose the right topic for my assignment?
Near the end of October, it was already time to start thinking about our topic for our only assignment this semester, which basically asked us to write a report about a weakness we've found in our students' abilities, use literature to explain the root of the weakness and make a suggestion as to what to do about it.  Because I was neck-deep in Academic Reading Circles (ARC) with my current students, I thought it a logical and immediately practical topic. What I've discovered is that identifying the weakness hasn't been entirely clear, nor from which point in time to start from.  This decision took me too long (and honestly I'm still not 100% convinced) and thus narrowing down my topic has set me far back.  In addition, looking for appropriate readings when I'm not entirely confident in its weakness or starting point overwhelms me when facing what to write. I wonder if I've bitten off more than I can chew for this assignment and whether I'd be better off scrapping everything and starting over with a more directly -related topic to the course readings themselves.
Plan of action: Suck it up.  There's not enough time to change now, so concentrate on the readings I have, have been given and identify the weakness more clearly before trying to solve it. Realise that this is directly relevant to my current students and that my work will benefit them in the end.
How am I going to handle two courses next semester?
If I've had difficulty keeping up with just one course this semester, am I crazy to take on two next semester? Is the first course always the one that students who haven't studied for 15+ years always mess up as they're sussing out how to fit back into university study?  Are the topics of the next two courses more in line with my specific interests that I'll be more interested in the readings? Will I have made the needed adjustments to my thinking, expectations and schedule to accomplish the course load more efficiently? Am I going to be disappointed in myself again or proud of myself?
Plan of action: Believe I can do it.  Believe I can do it. Believe I can do it. 
In conclusion, I know this has been a lengthy post to read (if in anyone's made it all the way down here).  It's more for me than it is for you.  It's definitely helped me see 'on paper' where I need to focus my energies better and make a plan of action.  If any of you are considering a distance MA program, maybe my experiences will help you.  If not, I'll gladly talk about it over Skype sometime.
If you've been through a part-time MA program like me, I'd be grateful for your suggestions on how to make it all work.