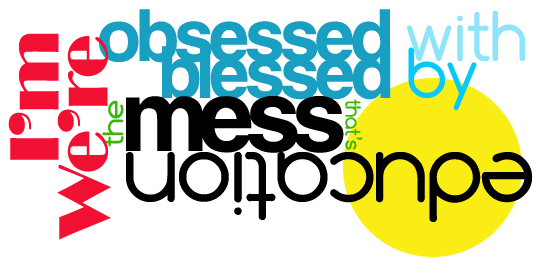 I was standing outside the building where my office is Thursday morning thinking about various things, as one does, listening to Marina & the Diamonds' Hollywood, and a revelation occurred to me about celebrity and education and how messed up society's values can be.
Why do we idolise singers, actors and sports players? Yes, most are talented.  Yes, most work hard at their craft.  But really, they're only entertainment–one piece in the puzzle of a healthy, functioning society. However, I pay to listen to someone singing or acting like someone they're not much more often than I pay to learn. I'm sure you can relate.  Why is that? Do I like entertainment more? No, of course not. Media plays a central role in shaping what we'll pay for and what we'll not, as well as what we value, misguided though it may be.
Why does media focus so much on entertainers so much compared to others in this societal puzzle? Do they deserve so much money?  Do they deserve our idolisation?  No. They're no more special than you or me. They spend no more time improving their craft than a lot of us do.  Their skills are no more important than ours are.  In fact, we are teachers.  Think about that. Value that. Our role is arguably more crucial to society success.  Our influence is arguably more crucial to the lives of our students.  At minimum, one must admit there's an imbalance in value and by value, I mean both political, socio-cultural and economic.
Imagine if everyone valued educators as much as celebrity.  Governments would ensure education received the funding needed. Parents and students would trust our judgment. Younger students would aim to be like us.  Don't forget the millions we'd make.  Narrow this to language teaching–a niche that helps the world improve communication between people of different cultures and language; reduce miscommunication so there's less misunderstanding between those people.  What could we do for ourselves, our families and our students if we always had the best of contracts and working conditions?
Maybe though, it's a blessing that we're not valued like entertainers.  We don't get scrutinised for such superficial reasons.  Our jobs don't depend on the evaluations of those who aren't trained in our field.  We don't get blamed for contributing to the failure of a movie even if it was doomed from the start.  Oh wait, maybe we do.
In the end, do we believe we deserve more than what we're getting?  If so, why are we putting up with what we have?  I'm really just saying what Marina & the Diamonds so poignantly sing.  Here's Hollywood.  Enjoy!