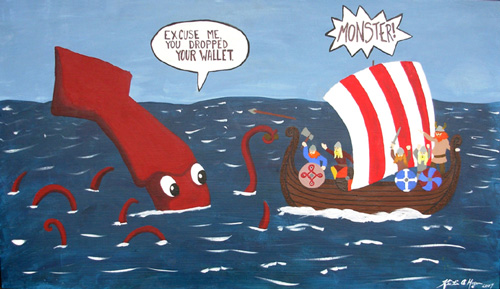 For some time, I've been increasingly feeling like we suffer from the warm, fuzzy, everything-is-wonderful syndrome.  We pat each other on the back when it's deserved, but also when it's not, and though this accomplishes what it sets out to–we feel good about ourselves–it also breeds mediocrity.  This spills over into our classroom philosophies as well.  Are we really helping our students achieve their potential with language or are we unintentionally filling in the gaps and overlooking errors they make because comprehensibility alone is the goal?  I subscribe to Underhill and Scrivener's Demand High ELT,  which looks at "ways of getting much greater depth of tangible engagement and learning" and in a recent conversation with my colleague, Katherine Anderson, she reminded me of a great activity that pushes students to be better.
Do you ever think about how much you learn to understand the way your students communicate? There are a lot of times that we are overly forgiving of what our students say or write because we know what they mean.  It can come to a point where we regularly accept the wrong word, collocated phrase, or grammar (and have you ever found yourself actually making that error yourself in their presence?).  Try turning the class around and having students tell you what to do.  The twist is, do what they suggest literally.  They'll quickly come to realise that not everyone is going to be so forgiving.
Literal instructions example
Because my classes could be in any building throughout campus, available technology in the classroom itself is a crapshoot.  Some have ceiling-mounted projectors; some have smart consoles connected to the internet; some have nothing but a blackboard.  More often than not, it's the latter.  In these cases, I need to carry a projector, laptop, extension cord and speakers to the classroom.  Though I'm rather adept now at hooking it all up within a few minutes, why not turn it into a high demand communication exercise?
Plop all the equipment down on the desk and ask students to tell you how to connect it all together in order to watch clips of a TV show or movie for the lesson. It, however, depends on students instructing you on exactly how to do it.  Keep in mind, you must do exactly what they suggest.
Students: Open the laptop and turn it on.
Teacher: OK. But it won't turn on.
Students: Put the electricity into a wall.
Teacher: I'm not an electrician.  I can't do that.
Students: Hmm.  Put the string into a wall.
Teacher: The string? <You pull a string from your clothes, for example, until students realise that's the wrong word.>
Students: Cord. Bring up the cord into a wall.
Teacher: Oh. Bring up the cord? <Point to the cord and speak to it kindly> You're a good cord.  Do you want to be a good wall one day?  You have to practice really hard at being flat and solid.
Students: Plug the cord into the wall!
Teacher: Oh! <Plug the cord into the outlet.>
You can see what I mean here.  Often for time's sake, we forgive the incorrect language our students use because we know what they mean.  Depending on the task, this can give them the impression that what they use is acceptable, a false security they may quickly realise when frustrated communicating outside the classroom.  It's about helping learners realise that are capable of producing better language for context and comprehensibility.  It's about our realising that overlooking their errors is actually a detriment to our students' progress.
Keep in mind that the vocabulary and grammar required in the task should have been earlier taught and practised. Keep in mind that it's not aiming to be impossibly difficult.
In the end, students will get a little frustrated, laugh and push themselves to try harder.  Plus, who doesn't think trying to bring up a cord to be a good wall is funny? =)