As I continue my semester both as EAP teacher and MA student, I'm confronted with issues related to where learning occurs and how it is most facilitated. As a reflective practitioner, I notice the former evidenced differently among my students and have been trying to connect this to my own graduate experiences to come to some theories about the latter. Though my conclusions are not absolute, I keep questioning whether concrete learning outcomes provide the teacher/student with anything beyond disappointment and whether the teacher really teaches anything.
Quantifiable learning outcomes come in nicely bundled packages of clarity. Unfortunately, I've rarely encountered these packages to be as tidy or quantifiable as they're presented in those nice boxes or bullet points. Whether in a coursebook unit or generated in program design, they don't accurately portray the messy process that is real learning.
In one of my favourite posts, Scott Thurbury (2012) aptly remarks that outcomes in coursebooks are akin to "bulldozing a path through the diversity, spontaneity, unpredictability and general messiness of the classroom jungle" (I'll come back to this jungle later). Their neat packaging does not factor in the personalities, expectations and mixed up processes in which learning really takes place. In an earlier post (2011), he questions whether the learning will be what the outcomes predict or something entirely unintended.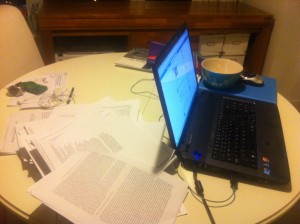 When doing MA coursework, I am often inspired by one small point or task in ways largely unrelated to the "you should be able to" purpose statements mentioned at the beginning of the unit. When writing an essay, I find myself thinking about texts I used for and feedback I got from a previous paper. Where and what I learn is often not what is intended either by me or the course designers. With my students, I can have a lesson whose aim is writing concisely, but expecting the students to do so well on a homework task after the in-class practice almost always results in my disappointment (and most likely theirs). I am surprised, however, at how it spawns one student's improved word order and another's organisation. It's rarely what I expect or where I predict it will happen. Through the exercise of writing on their own, individual needs are often realised and reflection (on the intended outcomes or something else) results in various instances of learning.
Despite the attractiveness of definite outcomes that some think perfectly accompany a particular lesson or unit, "the learning curve for a single item is not linear…[but] filled with peaks and valleys, progress and backslidings" (Larsen-Freeman, 1997:18 in Thornbury, 2011). Yes, in EAP programs (and most others), there are objectives for students to reach in order to prepare them for the demands of their content courses, but much of their learning varies both in and outside the classroom, including points neither we nor they expected were part of the course. We need to de-compartmentalise and de-structure where, when and what we expect our students to learn. Once our shift in expectation occurs, it begs the question of how and if our students learn because of us.
In a post a few years ago, one that inspires my thoughts here, Willy Cardoso (2010) questions whether someone can really teach another how to teach. His comparative experiences of mentoring a fellow teacher and leading teacher training workshops demonstrated to him that it was in the former where more learning took place. This mentoring manifested itself as collaboration (not teaching  or training per se). Freeman (1989) too suggests that teacher trainers are collaborators assisting in the discovery of how feedback given from trainers connects to classroom realities. This generates "a change in some aspect of the teacher's decision making" (ibid:38); in other words, learning is connected to a change in thinking, facilitated by the questions, points to consider and collaboration between trainer and trainee/workshop leader and participants/teachers and students. It's not the telling of what to do, but negotiation through feedback that facilitates learning.
Like Thornbury, Cardoso also notes that the real learning is neither linear nor something passed down in a 90-minute lecture, workshop or ultimately, learning outcome.  As an MA student, though little insights occur as I'm doing coursework tasks, the core learning happens during assignments: I have an issue to figure out (i.e. synthesis information for a paper about my EAP context); I sort out how I feel about it while composing, rearranging, considering; I discuss it with colleagues, my tutor and many of you online; I reflect on how my understanding is or is not backed by my experiences and my readings; I consider the feedback I'm given on something I've published, even months later. All parts, with the exception perhaps of the first, change order every time. In short, like Cardoso, I'm engaged in my learning when I "have a question of my own to study, maybe find an answer, apply that somewhere and self-assess the whole thing" (2010). Our students are not dissimilar creatures.
My students attend my classes, listen intently to what I have to say (sometimes) and do tasks I tell them to do (again, sometimes). It's not always here though that they show evidence of learning. It's during their assignments where we work out their problem areas, identify strategies to over come them and propose advice where this evidence begins to appear. There's a chaotic process to experience (see outstanding graphical portrayal at right) once they recognise why it's important for them.
Maybe we can provide them with ample opportunity to work class concepts out on their own, outside of the plans we've laid out for them. We need to provoke, guide and allow our students to navigate their way through the jungle without clearing that path for them, forcing them down it whether they are ready or not (see, I keep my promises). Sure, we are all bound by assessments, time constraints and plans given to us, but building in these independent learning times within those constraints where possible yields benefits.
I know my deepest learning comes on my own terms.
References
Freeman, D. (1989). Teacher training, development, and decision making: A model of teaching and related strategies for language teacher education. TESOL Quarterly,  Vol. 23, No. 1.
Cardoso, W. (2010). Do you think someone can really teach another person how to teach? Authentic teaching [blog], May 19, 2010. http://bit.ly/X0RQVQ
Thornbury, S. (2011). A is for Aims. An A-Z of ELT [blog], April 24, 2011. http://bit.ly/X0SqTI
Thornbury, S. (2012). P is for Postmodern method. An A-Z of ELT [blog], May 13, 2012. http://bit.ly/X0SDq1