I'm a nerd.  It's true.  Always have been.  Sometimes I've just thrown people off with nice clothes and the occasional hippy hairstyle.  Thankfully, nerds have now taken over cool.  And thus, it should come as no surprise that one of my favourite types of media to bring into class every once in a while is graphic novels.
They don't get the use they could in our classrooms or even talked about too often.  I've heard of their existence in ELT markets (here), but never known anyone to use these. Really, DC comics and Marvel dominate with hundreds of high-interest titles. Why not use them? Is it because they're still not mainstream? Movies like Iron Man should help there. Is it because teachers think they're meant for kids? Check out The Walking Dead; you'll change your mind. Maybe it's just because no one's shown what they do.  I can help here. So what are the benefits? The first that come to mind are:
Graphic novels add a visual to a text.
Graphic novels texts are often conversationally driven.
Graphic novels have manageable amounts of text.
Graphic novels allow time to digest a visual story.
Graphic novels are easy to photocopy and modify.
Originally, I'd planned to include three of my favourite comics here, but the more I worked with the post, the less X-Men Zombies and Wonder Woman seemed a natural fit here.  So, I bring you ideas for the ELT classroom from one of my favourite comics, Y The Last Man (Issue #1 is freely available here), which lacks superheroes, good guys and bad guys and happy endings (in fact, it's full of mature language and themes), but it begs for a movie adaptation. I can't tell you more or it'll ruin your experience of the activities below–my suggestions for what you could do with almost any comic.
Predict the story
Just like a traditional text, learners can make predictions about the story but this time based on images.  Here is the first page of this story.


Why do you think all the men are dead? Why is the woman pointing the gun at her head? If this is the first page, what do you think the story will be about?
Frames that include discourse markers
Choosing frames that include discourse markers can challenge learners to think critically about what they can determine happened just before, what's happening now and what may happen next. Here are four frames I've cut out from different sections of issue #1 (click on any for a larger version) and some sample questions that could be asked of learners to consider.

Scene A (above) – Why does Yorick (main character) say "Sorry, that was mommy dearest"? What does his mother do? Where is Beth (female in the next frame)? Why does Beth say "no offence, of course" to Yorick? What is "ampersand"?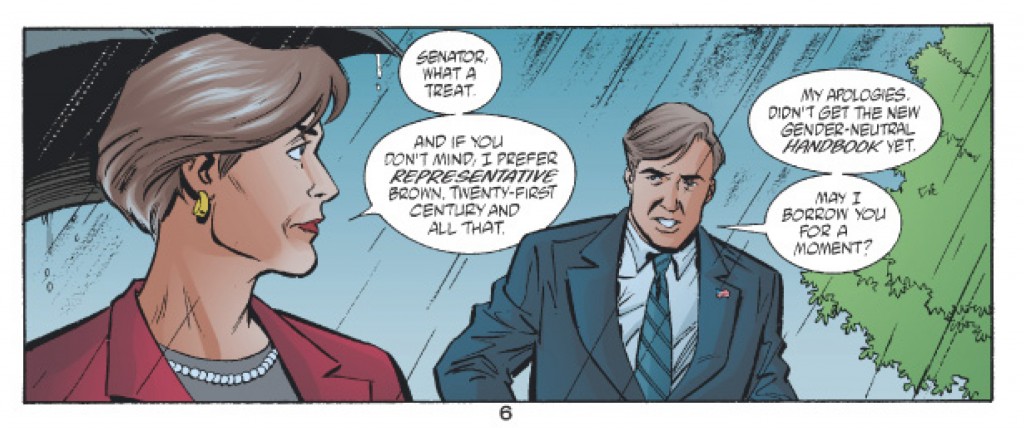 Who is the woman? How does she feel about meeting this man? What did the man likely do just before this frame?

Scene C – Why is the woman in the hospital? What is going to happen shortly?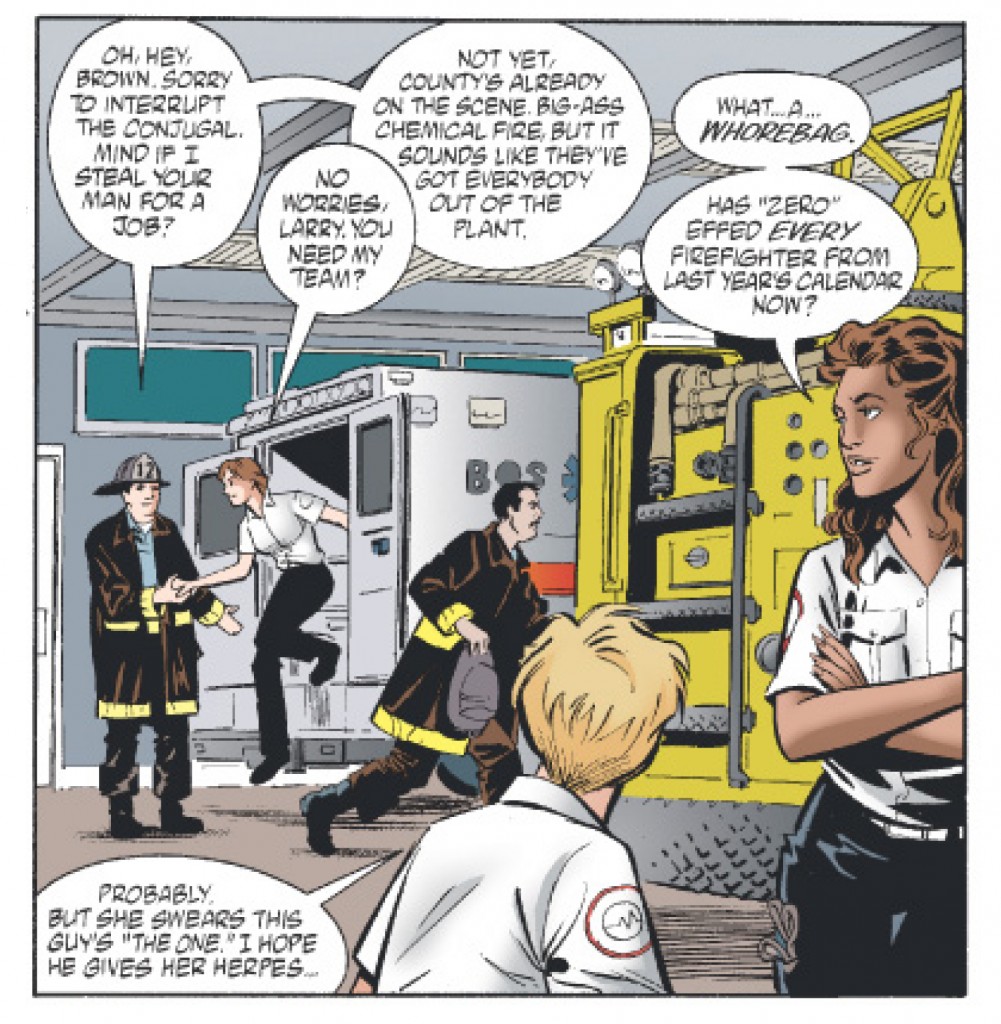 Scene D – What was the woman coming out of the ambulance doing before this? Why did the fireman interrupt her? What is her name? How do the other woman feel about her? Why? How does she feel about "this guy"?
Descramble a scene
Mixing up the frames requires learners to use the available text and imagery to interpret how one frame relates to another. Here is another scene that has been mixed up (very easy to do by cutting up the square frames, by the way). Can you determine the order?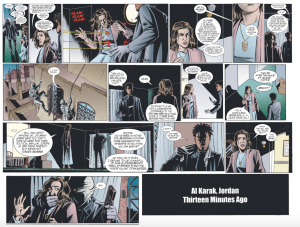 Novel in an hour
Graphic novels or better yet, individual issues of comics like this one, are perfect for the novel in an hour activity. Give each group of students a few pages, rearrange the pages so that the same characters are together (this issue, for instance, bounces around several different scenes that you could easily cut up and collate together per group).
Fill in the gaps
One of the more obvious ways to utilise scenes from graphic novels is to blank out some of the callouts for learners to practice language they're working on. I've taken an interesting scene, left the opening and kept a twist just to get learners thinking creatively. Click for PDF.
In the end, these are just sample activities with a sample graphic novel to encourage any use of them. And just in case your interest has been piqued, check out the series Y The Last Man.  Enjoy!
Check out Janet Bianchini's curated resources about using graphic novels.
If you've ever used graphic novels with your classes, which ones did you find worked well? Even better, could you blog what you did with them? =)