Experiencing our industry outside the classroom contributes to an expanded knowledge and understanding of so many aspects of ELT.  It can also help you to appreciate teaching itself when you feel less motivated.  With Twittering educators, blogging resources and virtual workshops increasing at a fantastic rate, avoiding burnout from the stresses of the classroom and gaining inspiration and motivation from others has never been more accessible.  Problems solved, right?  I've found avoiding burnout isn't so simple.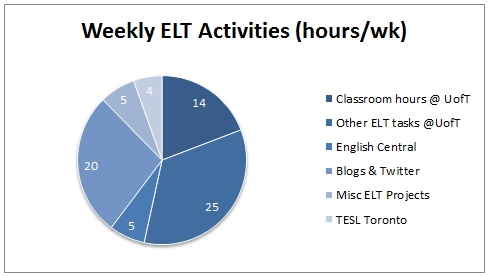 When you look at how I spend my ELT time during the week, it looks as though I spread myself across a wide variety of aspects, with teaching and directly-related classroom hours at my day job (the University of Toronto) pretty much well balanced with the hours I spend collaborating with other teachers, blogging and at English Central (see previous post).  A great balance of nearly 50/50.  You have a well-balanced ELT time, Tyson.  Congrats!  Well done!  Burnout averted!  However, like all statistics, this can be misleading.
If we expand outwards to include the other ways I spend my free time (outside the hours I'm paid for by my UofT position), it becomes more apparent that that balance is less…well.  Over the course of a week, not including sleeping, eating or grooming, socialising with friends and family come out as the whopping second.  Of course, most of my friends are other ELT educators and inevitably our conversation turns to our students and programs at some point.  It's also a little hard to entirely separate "TV & Internet" from ELT as I tend to multi-task during these times too.  I also have that Teacher Eye that is almost always switched to ON, where anything I see, watch or hear gets converted to possible lesson ideas.  Sound familiar?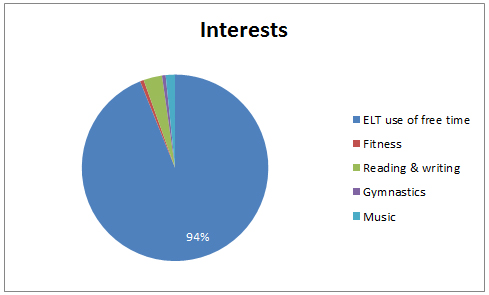 If you asked me what interests I have outside of ELT, without hesitation I'd list reading fiction, writing short stories and poetry, keeping up with the gymnastics world, fitness (Wii programs, walking with my dog, etc), and listening to and discovering great music. If I zoom out from previous pie charts to only look at the monthly time I spend on what I'd call these primary interests, it becomes even clearer that ELT has taken over my life.  It's no wonder that I'm feeling some ELT exhaustion.
In Shelly Terrell's Goal 19: Avoid Burn-Out, she challenges teachers to spend at least one hour a week doing something for yourself, apart from teaching and students in order to avoid burning out.  I'll go further in suggesting that you figure out what your ELT:Other ratio is (eg. like I've done with the pie-charts in Excel).  Similar to how writing down all the money you spend in a month can often shock you into budgeting, you may not realise how much time you actually devote to ELT outside of your classroom-related activities.  Though I've known for a long time that I haven't purposed enough time to my other interests (I hear the longing weeps from my pile of books and comics to read behind the cupboard doors), it's not until I saw it in black and white (or in this case multi-coloured) form that it became glaringly obvious that my road  towards burnout is being cemented by my actions (it's probably at the dirt road point at the moment).
The best of us exert so much of our physical and mental energy into our lessons, our students and our own development as teachers.  This can be inspiring (and even necessary) in certain doses, but we also need to broaden ourselves into other interests and devote time to them.  Not only will you decrease the threat of burn-out, but what you gain from other interests can bring new perspectives into your teaching.  My promise to myself, colleagues and students is to create a better balanced ELT:Interests ratio.
Now, I also ask you:  What are your interests outside of ELT and what is your ELT:Interests ratio?  Will you try to balance it out better this month?
Thanks for reading.  I'm off to get groceries and then read some Batman! =)

Related posts:
Teaching, books & collaboration (@seburnt)
Goal 19: Avoid Burn-Out #30Goals (@ShellTerrell)
Helping colleagues with teacher-burnout (@Marisa_C)