*2022 update: I hadn't looked at this post in quite a while. I have updated a few terms throughout this post to reflect my own learning over the past decade, but nothing that changes meaning or content from 2012. 
The most interesting session at TESL Canada Conference early in October that I attended was Joel Rhein's "Teaching against heteronormativity: creating inclusive approaches", which lured me since I'd never been to one where LGBTQ (lesbian, gay, bisexual, trans, questioning or queer, etc) issues in the language classroom were the focal point. The dialogue regarded depiction in our course books, chosen materials and classroom references. It's a consideration that has resulted in my concerted efforts to consider how I include LGBTQ in my lessons, but sadly, the first time I'd been involved in focussed discussion about it with other teachers. This has to change.
+

I believe three major questions help preface any discussion.
What message are we sending to our students about being in the LGBTQ community?
How are we modeling attitude and behaviour towards the LGBTQ community?
How are we making the LGBTQ students in our classrooms feel?
Through this dialogue, I hope we can be cognisant of these questions.
I sent out a web poll to get gauge interest within social media and without being prescriptive about it, I asked this question to the masses.  There were 422 views of this poll, with 21 respondents. Although I was initially encouraged by the proportion of affirmative to negative responses, I had to ask myself: if I didn't care about a particular issue (or even understand what was being asked), would I bother to respond to a poll about it? Probably not.  What does this mean though, to consider LGBTQ portrayal?
+

How are our classroom discussions and activities portraying LGBTQ?

If you're still using a book with a unit on whether it's ok to be gay or not as a platform for debate about the topic, it's time to abandon it.  Same goes for debating gay marriage (I'd say particularly in countries like Canada where this right is legally a done deal, but really, should it be a discussion at all in our classrooms?). Just a quick Google search on "ESL gay marriage" produced many lessons on the topic, three of which near the top I took a look at*.

One starts off promoting discussion about gay issues in a potentially productive and intellectual way:
Do you think gay people have enough role models in our society to identify themselves with?
Do you think those references portrait a positive image of the gays [sic]?
but ends with opinionated leading questions like:
What do you think of adoption by gay couples?

Do you think homosexual families can bring up children as well as straight families? If not, why?

Is AIDS a major problem for the homosexuals only?
A second worksheet is on "Modern Love". Early on is the question, "Should people of the same sex be permitted to get married? Why/not?" and despite balancing this out with several references to countries where it has already been legalised, ends with encouraging learners to go to an online discussion forum to give their opinions of gay marriage legalisation. Presumably this forum is not filled only with proponents and what could be considered by some, inoffensive opinions.
A third example has students reading about a US case regarding gay marriage, then expects them to engage in pre-planned debates on topics like:
Marriage should only be between a man and woman. vs. That's an old way of thinking.
Only God can decide who can get married. vs It's OK for the courts to decide.
Accepting gay marriage shows society is modern and free. vs. All it shows is society is going downhill.
before further discussing whether or not the following should be allowed:
gay marriage, gay parents, gay bars, gay teachers, gay US President (or leader of your country), gay bus driver, gay doctor, gay parades, gay bashing, gay rights, gay priests / bishops / rabbis / ministers…
Best case scenario (and likely a pipe dream), having students take a negative opinion and argue it will illuminate how ridiculous it is.  More realistically we should ask: why are these types of questions and activities included and encouraged in widely available lessons? Why are they acceptable to promote discussion? My answer: they're not. They lead students towards disagreement on issues that deserve no disagreement.  They potentially encourage impressionable students to take on an opinion they didn't previously have and provide a platform on a silver platter for more bigoted individuals to wail their offensive commentary.
Although these entire lessons are likely not negative on purpose and seem to aim for a 'balance' between two sides of an issue, I believe it is wrong to promote developing an argument against a human characteristic where there is no choice or is unfairly marginalising one group's rights compared to a majority, which these and many, many more examples do, perhaps unwittingly. In the worst cases, particularly evident in older coursebooks (older=1990s) still on staff bookshelves today, example opinions appear like "I think gays are disgusting" or "I'd be embarrassed if my son were gay" to balance out those that are in favour of LGBTQ issues. Spending time discussing outdated human rights topics perpetuates negative attitudes.
Consider this: Look at books from 30+ years ago, you could likely find many similar questions and discussions, but replace gay with black, women or interracial.
+

How is the imagery and topics of LGBTQ being portrayed?

If you examine any number of coursebooks, you're likely to find one of the three situations occurring, with variances due to the age of the material or the market in which it is being sold:

1) There are no explicitly LGBTQ characters or images throughout the texts. There seems to be an overwhelming invisibility of LGBTQ throughout published materials. There are very few ongoing coursebook characters that are overtly gay. Thornbury (1999) suggests a token semblance of gay imagery to publishers, "How about a few same sex flatmates? Unmarried uncles? Holiday postcards from Lesbos and Stiges? Two men sharing a restaurant table [alone] or doing the dishes?" Teachers and students bring their own perspectives to the classroom, some of which are LGBTQ, so why not encourage this variety in the imagery too?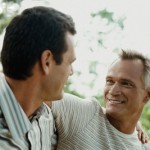 2) The images of LGBTQ are marginalised in one unit. Some publishers do now accept that a portion of their clientele is LGBTQ and as a result, include gay characters, but only within the confines of the unit on "gay" issues (even more rarely on any other people in the LGBTQ community), quite often on gay marriage. Even ignoring this, we must notice that the fact that these characters and issues are segregated into one compact unit along with similarly compartmentalised units on drugs, tattoos, euthanasia or racism, marginalises visibility and importance down to being something 'special' and 'different', a portrayal that may be unintended but informs our learners about how to view them.
3) The images of LGBTQ are as close to straight and clean-cut as possible. It's perceived as less controversial to include clean-cut, caucasian, masculine males in a semi-affectionate pose than if one were more effeminate, black, in drag or disabled. It's perceived as less controversial to include lesbians who are very feminine, with long beautiful hair and slender figures than if one were more butch, with masculine build or particularly tattooed. It's perceived as less controversial to include transgender who are… oh, right. They're not less controversial.
+

How does our reference to LGBTQ portray them to our students?

Aside from the fact that when we isolate a topic for a lesson, it naturally becomes special, different from us and a point of interest, how we refer to any group of people has a significant effect on the listener's understanding of our attitudes. It also can shape impressionable listeners, relying on us as teachers, to be models of behaviour, either as immigrants to a new country or as youth looking at an adult authority figure to emulate. Whenever I talk about LGBTQ issues, I aim to do so matter-of-factly, as though it is nothing special. For example, if relationships come up as a topic, I try to mention gay relationships in an unattentive tone, without drawing attention to it. By doing so otherwise, I may unintentionally suggest to my students that it isn't normal, something to be pointed out and valued differently than what is. A good anecdote I often consider is:

I've had discussion with family and friends about at what point kids should be talked with about gay and lesbian couples? I've come to the conclusion that there shouldn't be a planned discussion per se. Doing so draws attention to it, like it is something special that needs to be discussed. It may exemplify the attitude that gay and lesbian (and by extension, bisexual, transgender, and transsexual) relationships are unusual and different from them, when in fact, the purpose of the conversation is to help them feel that it is not so. In Toronto, there is a very large and visible LGBTQ community. When newcomers (e.g. tourists) visit and tell their children that it's OK and not to stare, they effectively teach their children that there is something weird to not act weirdly around. The way to demonstrate that something is not strange, special or uncommon is to behave and speak about it like everything else. Then whoever is listening, be it our children or our students, will have the impression that it is normal to us–a great impression to make on straight students, but particularly for LGBTQ students.

If we are aiming to foster classes that are more learner-centred, we should be accept that our students' social identities and in-born characters play an important role in shaping the topics we choose, the activities that we have them do and the materials we bring to facilitate communication. Some of our students are gay. Some are lesbian. Some are bisexual. Some are transgender, and some transexual. Some are unsure. Let's be aware and consider what messages we and our materials send.

This is not a discussion for LGBTQ teachers to have. It's one for all of us.
+

Notes

*I chose not to link to these lessons specifically because I do not aim to place a spotlight on the creators themselves, but if you are any of them, I encourage you to reconsider parts of the lesson or even more simply, their availability.

* Some other interesting reads/discussions, more or less related: