Less than 48 hours ago, I made five statements about myself, lying about two of them.  Then, through a brutal series of interrogations from members of my PLN, I am here to confess.
Statement 1: I love flying ever so much.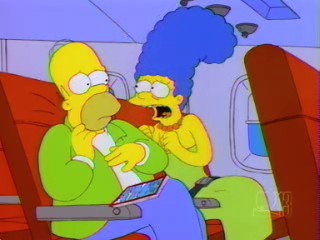 Despite that fact that during the interrogation, I truthfully remarked that I'd taken at least 35 flights during my life, from Canada to Korea to Thailand, Hong Kong, Japan, Australia and various places in Mexico and the States, the majority of interrogators believed this statement was a lie, largely because of how I said it during the initial interview.  You are all correct.  I am not a fan of plane travel.  I'd love to avoid it whenever possible.  It all stems from becoming easily queasy at the least bit of turbulence.  I'm petrified of turbulence.
Statement 2: For most of my life I've been devoted to competitive gymnastics.

I'm not exactly the picture of perfect health these days, but I spent hours and hours practising gymnastics as a kid and teen (that's me pictured).  I absolutely love every aspect of gymnastics from its freedom and coordination to its beauty and strength.  I competed on vault and floor exercise in two university championships.  I'm sure I would have gone much further had the facilities been available to me when younger.  I went as far as consistently tumbling a double back tuck and a 1.5 twisting layout.  So, this is true.
Statement 3: During 1999 and 2000, I was an executive assistant in the Australian government.

My partner and I went to Sydney in April 1999, both on working holiday visas.  After a series of temp jobs, I had an interview in the Corporate Department of the Roads and Transport Authority.  The person I was assistant to was the Corporate Manager, which governed the Marketing, Advertising and Publicity departments.  I was fortunate enough to go to meetings to learn about new anti-drunk driving and speeding campaigns were being developed.  I even applied for full-time work as a Project Manager when my visa was running out.  I loved Sydney–another truth.
Statement 4: Each December, I host a cookie swap party.

Hooray for cookies! When I was living with my parents, a common event was the Xmas cookie swap where everyone baked 3 dozen cookies of one kind and brought them to our place where we sampled and divvied up all kinds evenly for everyone to take home–a perfect way to have variety for your family.  Two years ago, I started this tradition here and last year, had 20+ people with a huge variety of cookies for everyone.  Last year, I made thumbprint cookies, skor bars and peanut butter muesli cookies!  SOO good.  And true.
Statement 5: I used to have the attitude of a Luddite.

Aside from a very brief couple months in first year of university where I tried to avoid trying out the new e-mail system that had just been put in place, I've been a sucker for all technology since I was 5 years old with Pong.  Next came Atari–favourite game: Asteroids! Next up Commodore 64–favourite game: Jumpman! Next up PCs–favourite game: SimCity!  Oh wait, this isn't really about confirming my addiciton to games.  In any case, I've never been a Luddite and in fact, fully laud learning about technology and using it to its fullest advantage when purposeful.
So there you go.  On her first guess, my good friend Cecilia Lemos had me cornered.  Well done!