The ups and downs of our classrooms
For me, the perfect classroom has:
long, solid desks in a semi-circle facing the front, enough room for everyone to spread out their work
capacity for about double the number of students in the class
ample chalkboards (or whiteboards), preferably that shift to reveal more
an electronic console controlling the audio system and ceiling-mounted projector
reliable internet connection
concrete architectural features
good lighting, preferably not too bright
a big window with a view of the outdoors
dark hardwood elements (e.g. floors or desk)
close proximity to my office
Every year there's a pasodoble between the university's Office of Space Management (our classroom selectors based on requested capacity) and the teachers (considerators of convenience and ideals) for our eventual assigned classrooms. Perfection eludes us, but we try for what we can work with.  Even in less than ideal conditions, the longer you work with yours, the more you adapt. With my current two rooms, neither blows my mind, but neither is heinous either. The way I look at them is in ups and downs.
Wednesday room. Wetmore Hall, Room 54F.  Basement level.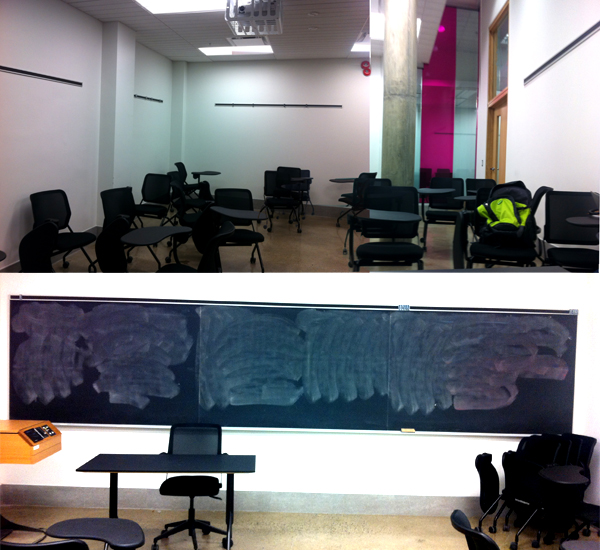 Ups: I've got the design features I like (concrete, big window–but not to outdoors). There's a mini-console (bottom right) that's connected to a ceiling mounted projector and a pretty good number of chalkboards. It's so useful to be able to project things–and one thing I've learnt: don't bother with the screen, just project right onto the blackboard so you can write overtop. Also, the wheely chairs do come in handy when you want groups to move around the room. Finally, this room is just a short hallway walk from my office, the photocopier, bookshelves, etc. during breaktime should I need something.
Downs: The wheely chairs.  With their folding, half desks, writing is more challenging that it should be.  Books constantly drop to the floor and no one can have coffees without them being (spilt) on the floor.  Another down? Unreliable wifi. So irritating. Sure, we've all taught without internet and some of us before it was ever available in schools, but come on, it's almost 2013, having the option to call up a video or a website at will is now barbaric for Canada.
Overall wishlist score: 5.5/10
Thursday room. Bahen Centre for Info Technology, Room 2179.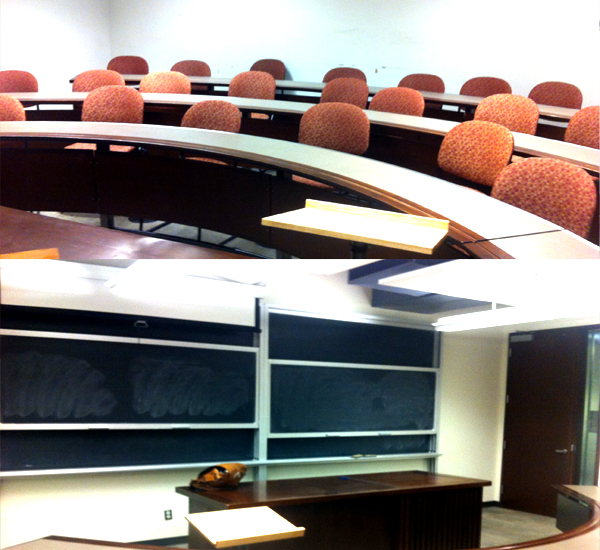 Ups: It's got my favourite semi-circle desks with lots of room to spread out–awesome for individual writing. This gives it a certain university feel, which appeals to my students who don't want to feel as though they are ESL students. It's got a good number of blackboards that shift up and down (though I've still not figured out how exactly they work–I always end up with my boards in the wrong order). Lights are bright and there's lovely dark wood.
Downs: Again, there's no reliable internet or even any projector (despite being in a building that has 'technology' in its name). I take it back, no projectors is what's barbaric at the tertiary level. It's also about a 10-min walk from my office, which forces me to carry a projector, wheely extension cord and laptop to and from in a shopping bag (cue sore shoulders and back).  It can be a bit difficult to do any sort of work in more than pairs, but I try to avoid the need on Thursdays.
Overall wishlist score: 6/10
So Thursday just edges out Wednesday's room.  If I could only combine the best from both, I'd have the perfect room.  Sure, I know I'm basing all my complaints on the fact that I'm used to teaching in this context. In the grand scheme of things, I realise I don't teach in dirt; it could be much, much worse.  But why not aim for the ideal? For more ideas on rooms, check out out Adam Simpson's new series, "Dealing with the physical aspects of the classroom," which thus far discusses prologuing questions to consider about room dynamics and physical arrangement.
My wishlist for you:
Tell everyone what your perfect classroom looks like and consists of. Post photos of your actual classrooms.  What do you think of them? What are the ups and the downs? What scores do you give them?  
View participants and their classrooms below
Vicky Loras (@vickyloras) – The Ideal Classroom
Adam Simpson (@yearinthelifeof) – Dealing with the physical aspects of the classroom: The curious case of G062 & G045
Christopher Wilson (@MrChrisJWilson) – My perfect classroom