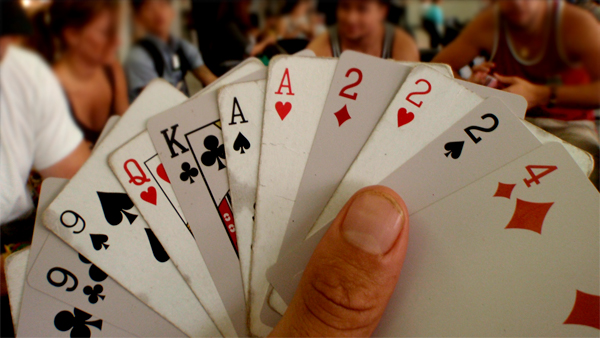 I'm a fan of cards. When I get together with my family for the weekend in my hometown, I look forward to us getting together to play cards. In highschool, cards were a huge part of spares, lunch time and a way to kill the day to tunes at picnic tables in summer. So naturally, I brought them into my language classroom full of teenagers.
One we played over and over and over for hours and hours as a teen was Asshole (aka President, Scum, etc). Maybe we loved it partially due to the name's appeal (it certainly wasn't because of the game's complexity), but more likely because it involves competition (no one wants to be the "asshole"), luck (you may be dealt good cards or bad), strategy (you learn what cards to hold on to and when to pass as your experience grows) and hierarchy (the order in which you exit the game determines your ranking in the next round).  Plus, there's a lot of sitting around mixed with minimal movement after every round (everyone must get up after each round and move to the chair of your ranking)–all characteristics rampant in teenage dynamics. For this and the game's simplicity, I knew it would work well with language learners. Although one could argue that I play it with my teens because I love the game too, I shall argue that the process results in some strong benefits for our students.
How I use card games in class
I bring in the cards and familiarise students with the suits and the names of the cards (many have never played with this type of deck, nor have any idea what a "jack" is).

I identify the basic actions involved in playing card games: shuffling the deck, dealing the cards, a hand, your turn/your go, pass, etc.

I talk about the object of the game: to go out first i.e. get rid of all your cards first.

I show them how the game is played, orally reinforcing the rules as we play, but not writing anything down. Students can ask questions as I demonstrate.

Over and over, we play the game until everyone gets the hang of it, either as a class or in smaller groups (Asshole works best with 5 – 7 players).

Once everyone's played throughout the class and feels confident they know how to play, I task students in pairs with writing out the rules of gameplay to give to someone who does not know how to play the game nor anyone to teach them how. I give no advice on how to do this, only requiring that it is clear and brief.

I give the rules to students in another class to read and try.
Benefits of this process
Practices listening comprehension and reinforces the importance of clarification questions.

Students learn from experience, rather than from reading about it.
The fun keeps students interested and engaged while learning.
The competition to not be in the next round "asshole" by moving up the ranks to "president" involves critical thinking on strategy.
Composing written rules requires disseminating key information from distracting details best determined by experience.
It also involves a number of revisions regarding the organisation and concision of rules for future learners. Here's a sample of one of the better student-written rules.
There is a surprising amount of transferable expressions that come out of gameplay (e.g. wild cards, pass, have the lead, etc.). For fun, try out this quiz. Can you figure out the card game expressions?
Discussions about why the emphasis in the title is on "asshole" position and why variations suggest the title is actually "president".
The other class tries out peer editing and feedback.
Surely this can be adapted to any game you like yourself, no need to learn how to play Asshole to involve your students in this process, but I highly suggest you try. And try not to be an asshole.
For more ideas on games in the classroom, check out and participate in #EAPchat Blog Challenge.