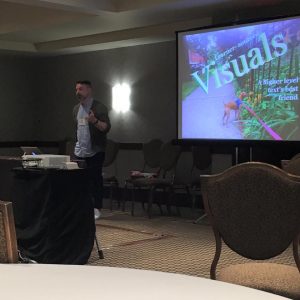 Ever since I finished kindergarten, I knew I wanted to teach. In January 1998, it all began in Seoul. Since then, I've moved from the classroom to management to a mixture of both. I currently work and reside in Toronto, Canada and do design work for education on the side.
Main interests
public spaces for exploring teacher identity and development
collaborative critical reading for comprehension and engagement
concision
Current professional roles
Talks and workshops
I typically centre my talks around critical/intensive reading, academic writing, teacher identity, and most recently, social inclusivity issues.
Recent/Upcoming talks
BCTEAL Conference, Vancouver CANADA, 11-13 April 2019
PLENARY: Our materials oxymoron and the inclusion of LGBTQIA narratives
I once polled English language teachers about how accurately the members of their society were represented in their materials across a whole term. Almost 60% suggested most materials varied little outside one particular demographic. More specifically, Thornbury (1999) and Gray (2013), amongst others, note that clearly identified LGBTQIA are visibly absent from course book materials. In principle, including LGBTQIA appropriately within our teaching practice seems desirable, but we may not realize how our identities and those presumed of our learners affect our approaches to doing so, even in unintentional ways. In this talk, I'll explore the intersectionality of these narratives, and how they can simultaneously result in both inclusive and othering materials.

IATEFL Conference, Liverpool UK, 1-5 April 2019
TALK: This talk will make you gay (or your materials anyway)
Previous conference speakers have established LGBTQ+ invisibility in published materials and the desire for better representation, yet few examples have thus far been produced. In this talk, we move this discussion forward by exploring two open-access exemplars (a mock-up coursebook unit and lesson plan using authentic sources) that incorporate LGBTQ+ narratives through an appropriate inclusive approach.
Part of the Inclusive Practices & Special Education Needs SIG Showcase Day, 3 April
BBELT 2019 Conference, Mexico City MEXICO, 8-9 February 2019
PLENARY: A critical guide to our teaching materials in the (mis)information age
In times when "fake news" and polarising commentary that aim to manipulate our understanding of global events and social groups are easily distributed, the need to critically evaluate an overwhelming volume of information is omnipresent. This can be challenging for those communicating in L1 environments, but for our learners, developing the confidence to question information presented in a second or other language can be tantamount to successfully navigating daily life, work, and study. Furthermore, as educators, we bear the responsibility of using, supplementing, and creating resources that effectively practise language outcomes using meaningful content, but also shape the environments in and attitudes about which our learners do so. In this talk, we will navigate how information is often presented (and manipulated) using examples ranging from texts, images, and video we may use as materials. I will highlight the significant impacts these resources can have on our perceptions of identity, especially when used within the dynamics of our language learning contexts. Finally, we will explore ways in which we as teachers can develop our critical approaches to language learning resources, as well as equip our learners with the confidence to decipher information and express themselves.
WORKSHOP: Academic Reading Circles and beyond
Past talks
You can watch segments of a few talks I've given online on my Youtube playlist or you can cycle through them below.

Publications
Aside from nearly 200 posts on this site, here's a bibliography of other publications.
Seburn, T. (2018, April). Fake news, questioning, and happiness proteins. Garnet Education [blog]. https://www.garneteducation.com/fake-news-critical-questioning-and-happiness-proteins/
Seburn, T. (2018, Spring). LGBTQ+ inclusivity in the language classroom: attitudes and considerations. TESL Ontario Contact.
Seburn, T. (2018, April). Up for debate. EL Gazette. http://162.13.127.165/rhapsody-elgazette/resources-up-for-debate/
Seburn, T. (2017, September 17). ARC: Engaging learners with texts by digging deeply into the meaning. American TESOL Institute. https://americantesol.com/blogger/arctysonseburn/
Seburn, T. (2017). Learner-sourced visuals for deeper text engagement and conceptual comprehension. In K. Donaghy and D. Xerri. (Ed.), The Image in English Language Teaching (pp. 79-88). Malta: ELT Council.
Seburn, T. (2017, July). Critical readers in the misinformation age. EFL Magazine. https://www.eflmagazine.com/critical-readers-misinformation-age/
Seburn, T. (2016, December 6). The age-old age debate: is technology a turn-off for older teachers? Pearson English. https://www.english.com/blog/age-old-age-debate/
Seburn, T. (2016, January). Beyond the comprehension question: perspectives on using Academic Reading Circles for deep reading. ELTAS Newsletter.
Seburn, T. (2016, January). Unconventional: publishing with the round. EFL Magazine. https://www.eflmagazine.com/publishing-with-the-round/
Seburn, T. (2016). Academic Reading Circles (2nd Ed). CreateSpace Independent Publishing Platform.
Seburn, T. (2015, August). Because grammar (and cats). TESL Ontario Contact.
Seburn, T. (2015). R is for racism. In PARSNIPS in ELT: Stepping out of the comfort zone (Vol. 3). Digital Platform: Smashwords.
Seburn, T. (2014, January 9). Give credit where credit is due? Garnet Education blog. https://www.garneteducation.com/give-credit-where-credit-is-due/
Education
Master of Arts (with Merit), Educational Technology and TESOL. University of Manchester, UK
TESL Canada Certificate (Standard 2 Permanent)
TESL Ontario Certificate (lapsed membership)
Bachelor of Arts, Philosophy. Western University
For a full CV, including projects, publication details, and a complete list of all talks given, please visit my LinkedIn profile. 

If you'd like to get in touch by email, please do: tyson.seburn@utoronto.ca.