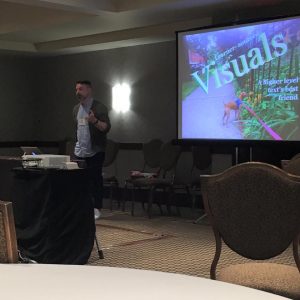 Permalink: tysonseburn.com
Ever since I finished kindergarten, I knew I wanted to teach. In January 1998, it all began in Seoul. Since then, I've moved from the classroom to management to a mixture of both. I currently work and reside in Toronto, Canada and do design work for education on the side.
Main interests
public spaces for exploring teacher identity and development
critical and inclusive pedagogies
concision
Current professional roles
Talks and workshops
I typically centre my talks around critical/intensive reading, academic writing, teacher identity, and most recently, social inclusivity issues.
Recent/Upcoming talks
World Teachers' Day Web Conference [Plenary], 5 October 2019
Tick boxes don't matter. Representation does.
In principle, most of us want to foster spaces where our learners feel included within our teaching practice. We can see evidence of this from the increasing frequency of the terms 'inclusion' and 'diversity' in social media discussions, conference talks, and organisational statements. In reality, we may not realize how our identities and those presumed of our learners impact our approaches to doing so, particularly in our materials choices and creation. It can be very tempting to include an LGBTQIA+ couple smiling at each other, tick the 'inclusive practice' box on our task list, and feel good about ourselves. So….
Do we represent our learners in our materials appropriately? Yes with an 'if', No with a 'but'.
Does representation really matter in an ELT context? Yes (without 'ifs' or 'buts')!
In this talk, I'd like to explore these two questions and their answers in some depth by walking through the social spectrum of ELT materials from whitewashed to an array of brilliant colours. In doing so, these will illustrate how representation of learners, teachers, and the people of our societies more broadly can be accomplished effectively and appropriately to empower rather than (unintentionally) oppress. Tick boxes won't ever look the same.
8th ELT Malta Conference 2019, Attard MALTA, 18-19 October 2019
This talk will make you gay (or your materials anyway)
This is an updated version of a talk given at IATEFL 2019.
BELTA Day 2020 [Plenary], Brussels BELGIUM, 9 May 2020
The info 'instashare': its impact on belief and our power as language teachers
Shermer (2012, p. 135) suggests that when information is shared with us, "belief comes quickly and naturally, skepticism is slow and unnatural, and most people have a low tolerance for ambiguity." In our current age of digital information, we all consume news, entertainment, and even educational materials, quite often through rapid-fire instashares online. This delivery paired with our natural instincts can significantly increase the challenge of not only locating what we're looking for, but also evaluating conflicting messages about what's true. In this talk, we will explore how information is produced, shared, and conveyed through social media; the impact instashares have on our abilities to decipher context and make evaluations; and the power (or arguably the responsibility) we have as educators to augment the role of language technician with emancipatory guide.
Past talks
Check out this list of past talks, with links to their abstracts and occasional recordings.
You can watch segments of a few talks I've given online on my Youtube playlist or watch an example here.
Publications
Aside from nearly 200 posts on this site, here's a bibliography of other publications.
Seburn, T. (2019, September). Podcasts: a multiskill tool. Oxford TEFL [blog]. https://www.oxfordtefl.com/blog/podcasts-a-multiskill-tool
Seburn, T. (2018, April). Fake news, questioning, and happiness proteins. Garnet Education [blog]. https://www.garneteducation.com/fake-news-critical-questioning-and-happiness-proteins/
Seburn, T. (2018, Spring). LGBTQ+ inclusivity in the language classroom: attitudes and considerations. TESL Ontario Contact (pp. 18-24). http://contact.teslontario.org/wp-content/uploads/2018/04/Tyson-Seburn.pdf
Seburn, T. (2018, April). Up for debate. EL Gazette. http://162.13.127.165/rhapsody-elgazette/resources-up-for-debate/
Seburn, T. (2017, September 17). ARC: Engaging learners with texts by digging deeply into the meaning. American TESOL Institute. https://americantesol.com/blogger/arctysonseburn/
Seburn, T. (2017). Learner-sourced visuals for deeper text engagement and conceptual comprehension. In K. Donaghy and D. Xerri. (Ed.), The Image in English Language Teaching (pp. 79-88). Malta: ELT Council. https://www.teachingenglish.org.uk/article/image-english-language-teaching
Seburn, T. (2017, July). Critical readers in the misinformation age. EFL Magazine. https://www.eflmagazine.com/critical-readers-misinformation-age/
Seburn, T. (2016, December 6). The age-old age debate: is technology a turn-off for older teachers? Pearson English. https://www.english.com/blog/age-old-age-debate/
Seburn, T. (2016, January). Beyond the comprehension question: perspectives on using Academic Reading Circles for deep reading. ELTAS Newsletter.
Seburn, T. (2016, January). Unconventional: publishing with the round. EFL Magazine. https://www.eflmagazine.com/publishing-with-the-round/
Seburn, T. (2016). Academic Reading Circles (Print Ed). CreateSpace Independent Publishing Platform.
Seburn, T. (2015, August). Because grammar (and cats). TESL Ontario Contact. http://bit.ly/arc-book
Seburn, T. (2015). R is for racism. In PARSNIPS in ELT: Stepping out of the comfort zone (Vol. 3). Digital Platform: Smashwords. https://www.smashwords.com/books/view/669186
Seburn, T. (2014, January 9). Give credit where credit is due? Garnet Education blog. https://www.garneteducation.com/give-credit-where-credit-is-due/
Education
Master of Arts (with Merit), Educational Technology and TESOL. University of Manchester, UK
TESL Canada Certificate (Standard 2 Permanent)
TESL Ontario Certificate (lapsed membership)
Bachelor of Arts, Philosophy. Western University
For a full CV, including projects, publication details, and a complete list of all talks given, please visit my LinkedIn profile. 

If you'd like to get in touch by email, please do: tyson.seburn@utoronto.ca.