So, on to part two of me talking about myself, thanks to Carol Goodey, Shelly Terrell, Divya Madhavan and Michael Stout. In this instalment, I'll be answering questions she posed to the 11 bloggers she tagged, asking some of my enthusiastic PLN to participate and asking them 11 questions. Are you one of them? But first, back to me.

Edit: This has become the most self-indulgent post ever, so hope you enjoy.
Carol Goodey's Questions + My Answers
What do you most enjoy about blogging?
I like the opportunity it affords me to write. During this process, I gain clarity into how I think about a particular topic, whether I expect it to or not. There's truth to the idea that what's in your head doesn't make so much sense and articulating it to others improves this.
Do you play a musical instrument? If not, would you like to? Which one?
Yes, I play piano moderately well. The adverb likely would have been 'extremely' when I was a kid, but I haven't touched it since my song-writing days of yore.
How far do you travel to work? How do you travel?
I purposely live near where I work. I can walk to work in about 20 minutes along a straight line that consists of a major road, under an overpass, past two Harry Potter-esque university buildings and through a small pathway covered in foliage. Despite this, I often take the bus that goes along most of this route in winter, and a share bike service in summer.
What do you enjoy most about the work that you do?
I both coordinate and teach in an EAP program. My favourite aspect is teaching how to deconstruct texts. A very, very close second is formatting assignment documents that I've contributed ideas to… in my gorgeous office.
What was the first thing you ate today?
Previously I mentioned that I eat an ungodly amount of toast. Today's included butter, peanut butter and raspberry jam.
If you could travel anywhere, where would you go? Why?
I can never answer this question myself when talking about where to go on vacation. If transporters were involved, I'd pick Hawaii.
What month next year are you most looking forward to? Why?
August, because that's when I'll have submitted my dissertation and that part of my life for the last three years will finally be over.
What meal do you prepare most often for friends?
I can't remember the last time I cooked for friends, so nothing. I am fairly good at suggesting Thai delivery.
What was the last movie you saw? What did you think?
Gravity. Though it was little dizzying at first, the rest of the movie was shot beautifully, had ample suspense and emotion.
What three things do you like to have with you when working?
This depends on what I'm working on and where. Ideally, my laptop, my TV and a good friend.
What do YOU think about reality TV shows?
I love reality TV. It's predominantly what's on said TV when I'm working in the evenings. It doesn't take concentration, but is consistently entertaining. Favourites include Survivor, Big Brother, Amazing Race, Biggest Loser, Income Property, Live Here Buy This and House Hunters International.
Shelly Terrell's Questions + My Answers
What is a goal you hope to accomplish from your bucket list?
One goal – publish the ARC book with the round. It's been in my list of projects for over a year now and though things have progressed, it's something I'm getting at very, very slowly because of other demands. I love the round. I love Luke & Lindsay and just want to devote my time to this, but I can't.
What is one goal you hope to accomplish in 2014?
I would like to feel happy about what I produce for my dissertation. It's been a huge struggle these past few years, both in terms of motivation and time. It's due in August, so here's hoping it's good.
If you could host a reality TV show, what would it be about?
I'd host one like Survivor. To go to tropical places for 2 months to shoot a show where people do challenges and live with no luxuries while you stay at a resort. Sounds perfect to me.
How do you blow off steam?
Posting my frustrations on Facebook tends to make me feel better, especially when others commiserate.
What is one of your personal theme songs?
This has come up during your 30Goals and it was hard then. I don't really have any theme songs. I love many songs, but not any I listen to for motivation or inspiration. This first one that comes to mind though is Eel's Mr. E's Beautiful Blues, but mostly because of the chorus, which makes me say you know what, it is a beautiful day!
What are you incredibly proud of accomplishing?
My career progress in the last 5 years. It went from a rut as a private language school teacher making nothing and knowing no one to a dream job at University of Toronto, both coordinating and teaching, as well as president of TESL Toronto…not to mention the amazing friends and contacts I've gotten to know in the industry through this blog and other social media. It all just took a decision on my part to want more.

What was one of your favorite gifts?
The best gifts for me have been a comic book I've coveted that has been officially CGC graded and encased in airtight seals. Otherwise, dinner out. ;)
How have you dealt with a past failure?
There are no failures, unless we're talking about scores during university. I guess I don't consider failing as possible.
What is one piece of advice that has helped you throughout life?
My grampa, then my mom, always said "this too shall pass" whenever something's got me down. And it's true.
What was your favorite toy when you were a child?
I collected stuffed animals when I was little. I had so many that I used to arrange them as a class that I would teach (I also had a blackboard in my playroom). My favourite was aptly named, "Bunny".
What's your favorite piece of art?
Not much of an art fan. I just don't really get it. Galleries typically bore me. But I'd have to say my favourite is hanging in my office. It was painted by my partner. It looks like a dark cloud, with black drips from it, and random Korean characters in white.
Divya Madhavan's Questions + My Answers
Do you like country walks?
Yes, I like walking through the woods or around the northern France countryside (did that with Margaret Hurley & Ian Kang last November after TESOL France). I had a special connection avec les vaches.
If you could choose between a chocolate and a non-chocolate dessert what would it be?
I would choose cookies, non-chocolate. I love cookies, particularly peanut butter.
Do you have a preferred variety of house pet?
Over the last 13 years, I've had puppies (the amazing Rocco and now the beautiful Loulou), so I'll have to go with dogs, though for many years before that, I always had cats too.
Do you think lemon tart is better with or without the meringue?
Without meringue, it's just a bunch of yellow goo.
If you had time to blog about something other than education/ELT what would it be?
I used to blog about how ridiculous I found things in the world, general stuff. Included in that was also countdown lists of the best albums each year and my weight loss through the Wii. So more stuff like that. Witty, of course. Come to think of it, however, I have a blog for each of my puppies. One for Rocco after he passed away last year for cathartic reasons. One for Loulou as a type of baby-book.
What is the next language you'd like to learn?
I have a certain pull towards Dutch. I'm unsure why.
Do you think salted butter caramel is better consumed hard or soft?
Um. I have no idea, but I generally like chewy things vs crunchy things.
Have you ever had to write out a minute-by-minute lesson plan?
During my TESOL training, it was required to write out these types of plans. When I used to create centralised lessons for the private language school I worked for, I also did that.
What is your favourite French pastry?
Isn't it all good? Honestly I can't say really because I'm not familiar enough with all of them.
Have you ever been observed teaching? How much?
I have, but it was long, long ago. I do feel like I'm observed a lot by other teachers when giving workshops though.
If you could spend a year focusing on research, what would you research? Why?
Ugggh. I'm at that point in my dissertation, as you are well aware. ;)
Michael Stout's Questions + My Answers
Why did you become a teacher?
Since I started school, I'd always wanted to be a teacher. Of what? Unsure. I just loved school and being the one who leads a class appealed to me. Teachers were always so knowledgeable and I envied them. When the opportunity presented itself as language teaching, I took it.
Do you do teacher research? Why, why not?
Aside from very informal action research, not so much until I started my MA. Now that I've been back in the university environment (both as student and teacher) for some time, I've been more and more convinced that evidence and research is valuable.
How important is music to you?
I adore listening to music, mostly pop, be it electropop or folkpop. It gives me an insurmountable joy when a song has that perfect combination of instrumentation and catchiness. I can't imagine being deaf.
Where is your favourite place in the world?
Though I would have said Hat Rei Lei in Thailand for many years–just stunning beaches, treehouses and waters, but I'm not sure I could live there, maybe it's my favourite to visit. Otherwise, I don't really have a favourite place.
Do you eat to live, or live to eat?
The former. I like food and eating out, but it doesn't drive my days or anything.
What's your favourite word?
Hmm, my first instinct would be to use an expletive because of how it feels coming out, but I'll refrain. At the moment, I am going through a "behoove" stage, the word used when we want to indicate that an action to do is in our best interests or has become our responsibility. I also like the way this word sounds–a driving force for my love of words.
Can you share an "あそうか!" (Eureka) moment with us?
When I was 33, a lightbulb just went off in my head to finally put all my efforts into growing as a professional and improving my career. Until then, though I'd loved teaching, I hadn't really committed to it as a profession. It was something I was good at, but not something I felt devoted to more than other hobbies. At 33, I realised that if I ever wanted to be stable, expertised and live comfortably, I had to focus my attention on one thing.
Can you give us an example of a time you learned something from a student?
I have learnt about culture from students more times than I can count. I think this is what I take away from them more than anything else. And it's never remaining the same. As much as I think I may know Brazilian, Korean or Chinese culture, the next generation is a little bit different.
Where do you want to be in five years?
On the Sunshine List (I may need more than one source of income). ;) Otherwise, right where I am, but maybe with an office on an above-ground floor instead, a newer condo and a published book.
Can you paddle a canoe?
I haven't tried in about 25 years–the last time was in Muskoka–but I think I could pick it up again fairly easily.
What are your favourite novels?
Margaret Atwood: The Year of the Flood, The Blind Assassin, Alias Grace
Haruki Murakami: Hardboiled Wonderland and the End of the World
Arthur C. Clarke: Rendezvous with Rama, Rama II
Robertson Davies: The Deptford Trilogy
On to the next section…
As part of this chain challenge, I'm going to mention 11 bloggers that you should check out and tag them here. If they're avid readers and/or savvy on their blogs, they'll realise they've been tagged. If it's you, feel free to ignore this or participate. It's completely up to you.
PS – I pity the popular bloggers who've been tagged in this challenge multiple times, so I've attempted not to tag anyone who's already been tagged somewhere.
PPS – In an untimely turn of events, a good number of my blogging friends have decided to participate in my MA research…on blogging, so I've not included them here either, as a thank you. ;) But if you ARE one of them, feel free to take this blog challenge on too. ;)
My Questions to Others
So, here are your questions, straight from my cerebral cortex (I think):
You have 5 minutes to rescue one of your blog posts from oblivion. Which do you pick? Why?
How did teaching become (part of) your career?
Aside from weather-related impressions, how does Canada come across to you? If you're Canadian, how do you think we come across to others?
What career path could you have easily gone down had teaching not worked out?
What characteristic of your Chinese zodiac animal sounds like you?
What do you vastly differently now than when you were a new teacher?
What book have you wanted to read but have never gotten around to it?
Out of these options, the best class size is… 1 student, 5 students, 13 students, 24 students, 50+ students.
Does your middle name have some meaningful significance, if you have one?
You will give a workshop to your colleagues. What would you feel comfortable leading a session on?
How do you feel about carpeted rooms in your house?
I'm sitting on my sofa surrounded by a hoarder's dream of clutter while two rooms in my place are being stripped clean of the disgusting builder's carpets and replaced by new flooring. I've taken a holiday from the university to "supervise" work being done, but as I'm useless to concentrate on more pressing work or MA-related tasks, I find myself with the rare opportunity to participate in a chain blog questionnaire, the previous link by Carol Goodey. A fun snapshot into who we are beyond the blog, the idea goes as follows:
Acknowledge the nominating blogger. (

check, done above

)
Share 11 random facts about yourself. (

check, done below

)
Answer the 11 questions the nominating blogger has created for you. (d

on't want to bore you with reading too much about me at once, so this will come in the next post

)
List 11 bloggers. (

next post

)
Post 11 questions for the bloggers you nominate to answer, and let all the bloggers know they have been nominated. Don't nominate a blogger who has nominated you. (

next post

)
Why 11? Good question, so I'm doing 13 for 2013.
Random facts about me
My full name is Tyson Brian Seburn, but I wasn't born with only these names. Seburn is actually my mom's maiden name, and originally one of my middle names. I was born with the last name Davies.
I was a basically a straight A student until high school in everything except Physical Education class. Ironically, I excelled at gymnastics, which is the only part of that class that pulled me grade up from a fail.
Continuing that thought, for the most part I taught myself gymnastics with a mini-tramp and lots of mattresses piled up in the backyard. I'd dreamt of going to the 1992 and 1996 Olympics, but it just wasn't meant to be. In fact, my only excursion into competition was during my first year of university, where I competed on floor exercise and vault.
I grew up in a small town in one of the southernmost parts of Canada, called St. Thomas–population 30,000. It's pretty close to a larger city, London–population about 350,000–, so whenever I told students where I was from, despite my Canadian accent, they'd almost always confuse it with London, UK.
'Numbers nerd' would describe me well. Though I'm no mathematician, I do like studying statistics, particularly that result in rankings, charts and graphs. Though it's become an unpopular idea, I've always loved marking assignments and tests, and seeing the resulting grades, as well as rankings from best to worst. Sue me.
My first language teaching gig was in Seoul when I was 23. I taught both adults and kids. I ended up calling Seoul my home for almost 6 years after that. Though I left in 2003, I did bring two Koreans back with me to Toronto–my partner and puppy.
When I came back to Canada, I had no intentions of continuing my language teaching career, but wanted to move into writing, both in the form of novels and magazines like Scientific American. Wasn't meant to be, but my language teaching career was.
At home, I almost always do my work and blogging in front of the TV while watching reality TV of some sort, from Survivor to Big Brother to Income Property.
Though I wouldn't consider myself an avid reader these days, I always anxiously anticipate novels from Canadian author, Margaret Atwood-most recently, MaddAddam. Her best: The Blind Assassin, The Year of the Flood and Alias Grace.
I eat an ungodly amount of toast. It's my favourite snack. Oddly, I prefer a full breakfast (eggs benedict, bacon, fruit, hashbrowns, etc.) to it. Best toppings: lots of butter and brown sugar.
I used to handwrite all my lesson plans and more often than not, all my handouts for students (which I would photocopy, not handwrite duplicates). This was back in the day of no computers in teacher lounges, let alone the Internet. Sadly, I just recycled the only one I had left from then. It was a lesson on "movies", go figure.
If we go by historical pattern, I'll grown my hair out to ponytail length next year, as I've done so every time my age ends in zero. It stays long for two or three years, then I go super short again.
I have over 2000 comic books in bags and boards, most of which are X-Men of some sort and Wonder Woman.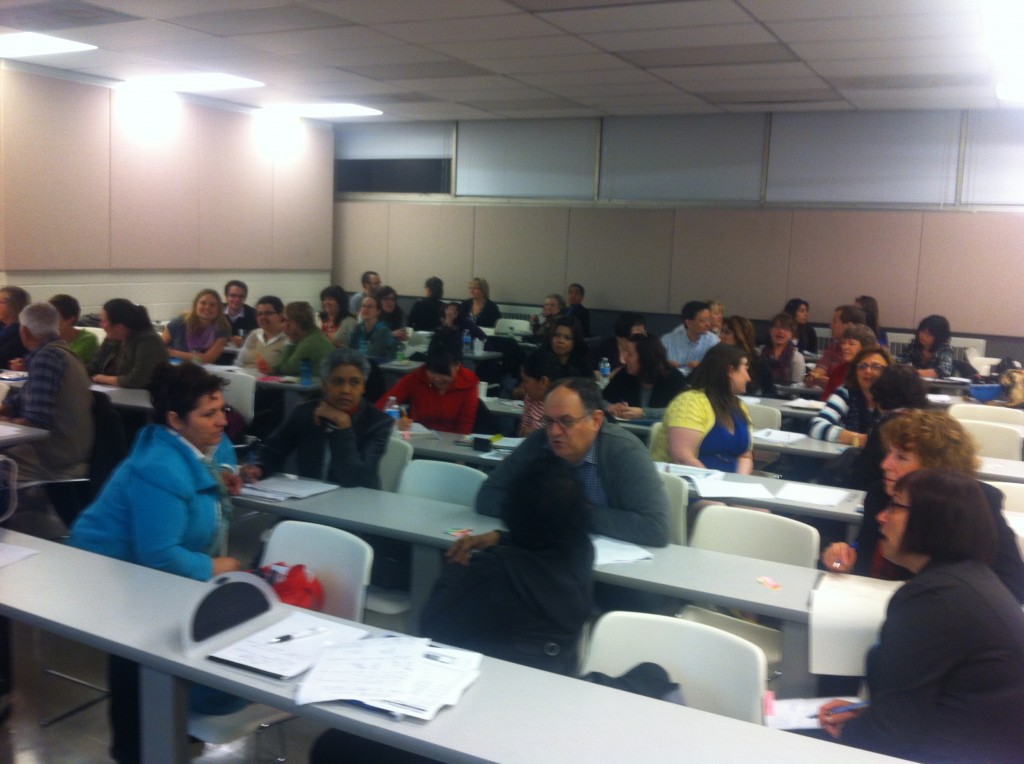 I've gone to a good number of conferences, both online and offline over the past decade or so. You likely have too. Many of us often blog about our experiences soon after the conference is over. I've read about many of your experiences quite recently even. As someone who organises offline conferences, I'm often curious as to the types of sessions that people like and don't, and why. It's not something I've seen blogged much about. So at the risk of being shunned by my entire PLN (sidenote: I've watched more episodes of Breaking Amish than I care to admit), I'll tell you mine.
At most language teaching conferences (where teachers are the main audience, as opposed to administrators or academics), there's an expectation on the presenter to be less "present-y", in other words, not boring. This expectation leads to a wide variety of attempts to be 'not boring' through participant involvement. Some work. Some don't. I have to admit though, that unless I'm going to support a friend or it's the only EAP-related session I have to choose from, I almost always avoid any session with descriptors like "interactive", "peer-led", "group…work" or any indication that I'll be expected to get up and move around. But why? Aren't I, as a teacher, supposed to love interaction?
Participant-driven sessions don't always work out as they are pitched to. This is when you get to the session on the topic you're interested in, you are faced with the leaders telling you to group around different tables based on a common interest of a subtopic. Instead of them leading the session, it's about you and your peers driving discussion on the subtopic for an allotted amount of time. Sometimes there's a leader at the table; sometimes it's simply attendees. If you find the topic isn't so great, you're expected to get up and move to a different table (cultural baggage can often preempt this from actualising). After a prescribed amount of time, everyone gets up and tries a new table or the session ends. Sounds great, but in my experience, it breaks down.
You never know who is going to join the table you go to. They could be true peers with a similar level of knowledge or people quite inexperienced who join for interest's sake, just to get information. The depth and quality of discussion is greatly affected. If everyone does share similar experience, the first bit tends to be spent comparing your teaching situations (e.g. logistics of the program, types of courses, student body, etc). This is necessary discussion, but doing this over and over gets tedious. Beyond this chit-chat, there can be too many cooks at the group, keeping discussion rather surface-level. Four seems to be the max for quality. Otherwise, meatier discussion can be had over beer in a pub with a colleague. In both situations, the discussion can feel largely like a interview with people you hardly know.I rarely come away with anything new or any particular take-away to share. 
Interaction for interaction's sake isn't necessary. When I sit down in a session and the presenter exclaims that everyone is going to work together on activities after hearing about the topic, I cringe just a little as I'm taken back to school projects gone horribly wrong due to an imbalance of prior knowledge or effort invested. Maybe I mistakenly go to sessions where I think attendees will be well versed in the topic, but they aren't. Maybe I want to hear more about what the presenter thinks, rather than the attendees, considering they've been brave enough to lead a session on this topic. Maybe it's because I'm on committees at school and TESL organisations, or work in a team environment in the course I teach already, where I fill my collaboration quota. Probably a combination of these three.
The participation and experiential learning I do like at a session is individual. I find value in the Q&A with the presenter as questions the audience has while listening to the presentation can be best answered by the leader, not the participants. I love the experiential learning I can do at my own pace and at my own skill level with the tech tools I chose to bring to the session, not slowing down for those that didn't. This is one reason I love webinars and online conferences: their type of interaction allows you to chat with other participants if the discussion is engaging, participate if you find it useful or multitask without being rude.
Listening to a talk isn't always passive or ignoring the brilliance of the audience. One downside often heard of presentation-style talks is that the attendees just sit passively listening to the presenter speak.  That's not my case. I like plenaries because I listen to someone I want to hear speak for an hour without much interruption. I like the opportunity to both be a little entertained, but also engaged in the topic that they are the expert about. I like the fact that while I listen to them, questions about some things they say swirl in my head; ideas pop up about how the information they give is relevant to me; I can look something up online that I don't know or has inspired me, or take notes. All these things I can do in a plenary (or a presentation-style session) without the constant interruption of group work.
So what's my point? It's not that interaction is bad. It's not that all sessions like those above I've been to at every conference irritated me. There can be a very valuable and purposeful reason to interaction and great takeaways. However, giving some thought on why you do it, how it's best executed and whether it's worth it given your topic is necessary to consider. I'd rather everyone not feel interaction is key because it's the current thing to be -not boring-.
Otherwise, as I said at the beginning of what hopefully does not border on sounding like a rant (don't worry–I'm typing this without the least bit of rising blood pressure), the conference organiser in me would like to know what types of sessions you really do prefer to go to.
Please take a moment to rank your favourite (1) to least favourite (6) type of session.