I'm not sure if you've seen activity that's risen up from a few calls-to-action at the Innovate ELT 2019 conference in Barcelona or not, categorised as "ELT Footprint". It's largely a group of ELT professionals together, concerned about the climate crisis, who share ways in which the ELT profession/industry can have an impact (positively or negatively). So far, the organisers have put together a Facebook group and blog. The FB group is currently extremely active, so beware with notifications. In any case, someone asked what type of lessons others might use within the environment and sustainable realm of topics, so I whipped one together, which I've shared there, but will also post here for those not in the group.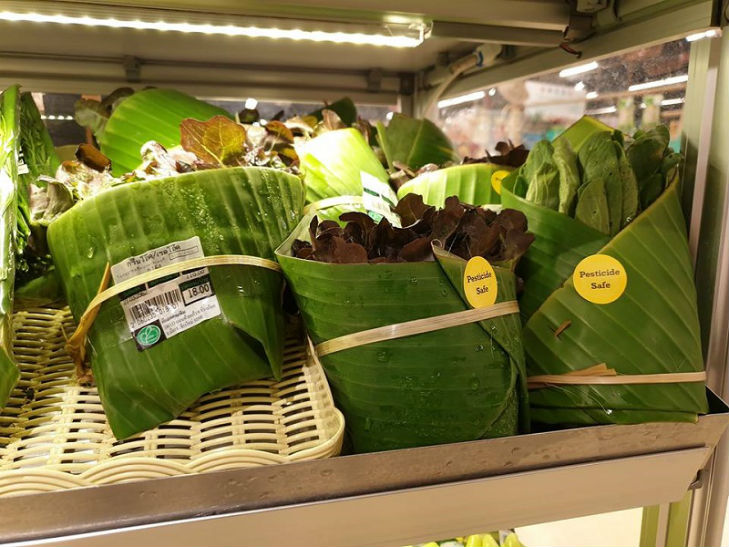 This is meant to largely inspire with an example of how you might include this theme into materials with a class, not a hard-core planned out CELTA lesson. I haven't overly prescribed language items to cover or even level, so much as suggested task use.
Pre-task lexis
Show pictures of a grocery market and various ways in which markets or customers (local to learning context) group products together for sale or purchase. Examples can be found in this slideshow from Ceri Jones. Learners discuss modes of grouping and associated vocabulary, not necessarily with environment or plastic as the focus, but anything (e.g. could be 'in bundles', 'in pairs', 'with elastics', collective nouns, etc.). This can be done in comparison with learner home contexts if different.
Task, pt. A – Problematisation
Learners work together to brainstorm their suggestions to the following main questions:
Are there problems that arise with the way in which this type of bundling is currently done?
How can this type of bundling or packaging be done differently – for efficiency? cost? environment?
Task, pt. B – Solution
Part 1 – Reading
Use attached news item as reading and source material about how some supermarkets are trialing the use of banana leaves to group products together instead of plastic bags (specifically in Thailand and Vietnam). Another possible text includes one about how IKEA may use organic packaging made from mushrooms that can decompose in gardens instead of being thrown in the rubbish bin or recycled. Learners could also find other examples online as further support or inspiration. Alternatively, excursions to local supermarkets to gather info could be helpful/real.
Ask learners to also critically examine the implications or other problems (e.g. cost effectiveness, limitations of type of product it can be used with, etc.) that may arise with these types of solutions in order to anticipate criticism that may arise from different people: managers, customers, etc.
Part 2 – Writing
They write a proposal to grocery store management suggesting new methods and justifying with rationale, possibly by referencing these texts. Possible tangent lessons to this depending on level and purpose may include:
– Characteristics of writing for different purposes/genres
– Summarising, paraphrasing, and quoting with citations

For a few other writing tasks on this theme, check out the rest of Ceri Jones' slideshow.
So here we go. Nothing fancy, but somewhere to start from.