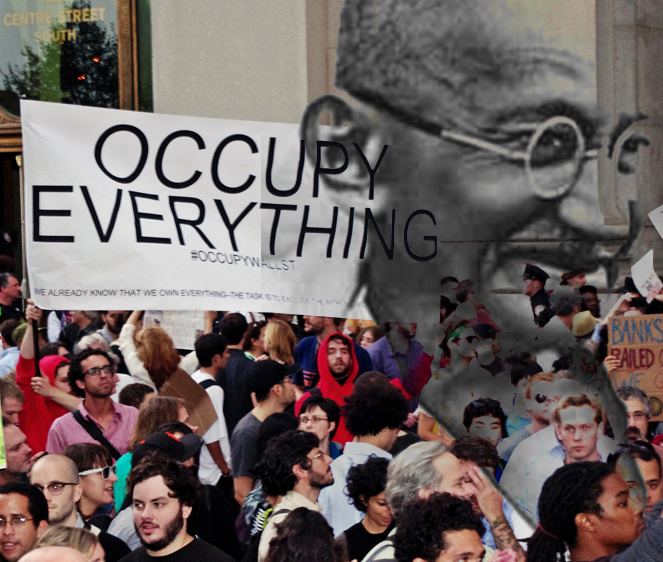 This weekend brings everyone 5th Virtual Round Table Web Conference.   You should check it out.  There, I've discussed #EAPchat during its opening Symposium. On Sunday, I'll be talking about using blogs for intensive and extensive reading practice and yep, Ghandi and the Occupy Wall Street movement are part of it.
My colleagues and I at University of Toronto, New College, choose texts each week for the academic reading circles usually by copying the text from online articles, reformatting them into a Word document with space for notes.   They use this in-class and for homework. We also try to use or make readings available to students on thematically related topics. This was great until a few weeks ago when we thought about switching it up by using the script (and video) from a TED talk on 'the 99', a comic based on a group of superheroes representing aspects of the Q'oran.  Immediately we thought of putting this one together in blog format.  It is here, in case you're curious.
This got me thinking.  Why hadn't I thought of this before? Paper-based texts can be very limiting in certain ways:
The text is not interactive in any obvious form.
You can't modify or add to existing handouts later without producing more handouts.
Providing a variety of extended readings would be photocopy-overload.
You cannot have any multimedia in the text.
It is challenging to give feedback to all students.
There's a lack of real student involvement and control over the texts.
When there is a technological alternative, certain functions can enhance the process and practice of effective and critical reading skills.  I've set up this exemplar blog to discuss just how to do that here, which I refered to as basis for my #vrtwebcon session on April 22.
The presentation slides are here:
[issuu width=420 height=158 backgroundColor=%23222222 documentId=120422225616-b60c1b4d21734fc794c180774783f0b5 name=blogs_for_intensive_and_extensive_reading_practice username=coursetree tag=4c unit=px v=2]
Click on my face to watch the whole recording.  You'll feel you're there; I swear. =)