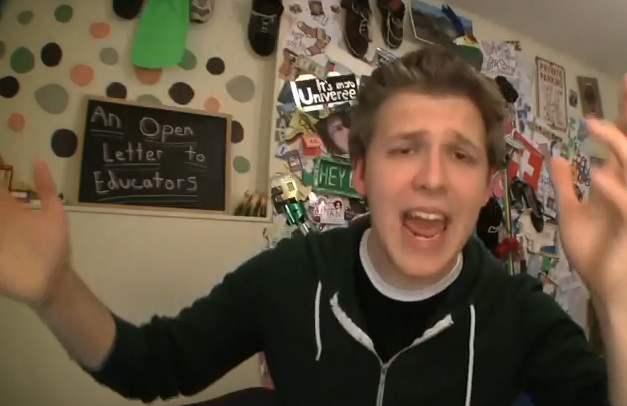 Note to readers: This post is based on "an Open Letter to Educators" by Dan Brown, which was first referenced in this post on critical thinking. The content of this post is a follow-up activity to this video we used in class and is addressed to my students. However, should you like to comment, please feel free. Can my students analyse their own answers to determine what makes one better than another?
Instructions for students
The video we watched in class is embedded below.  The questions you answered in class are typed below exactly as each of you wrote them. Please read all responses below. Vote for the answer for each question you believe deserves the highest marks based on content as well as grammar. Once everyone has voted, in class, we will compare your results to my opinion and analyse the criteria of a good answer. <EDIT: polls have been deleted>
1. According to Dan Brown, the value of information has changed over the course of history three times and we are currently in a fourth. Describe the societal situation of each of these three/four times to show a consistent change in value.
Student 1 
According to Dan Brown, there are four different time periods that the value of information has changed in these periods. First he mentioned the kingdom period when there will be only one king that can access to all the information and other cannot. In this period, information is treasurable. After the kingdom, there comes a society that has three clearly divided classes, bureaucracy, work-class and poor people. In this period, bureaucracy can access to almost all the information, work class can access to a limited range of information. Poor people can not access to any, as a result the information is still valuable. The third period is the time that there are wealth people can access to all information, poor people
Student 2 
According to Dan Brown, there are four time periods that the value of information has changed over the course of history. The first period is clearly divided by king and the information is very valuable. The second period is also clearly divided by bureaucracy, work class and poor people. The value of information becomes less valuable. Next period is less clearly divided wealthy people and middle class people. The information can be purchased. The last period is now and then information is free.
Student 3 
There are four different sections about information changing, the first one is kingdom. The king have to power to know all information/knowledge so knowledge became very valueable during kingdom period. The second section is clearly divide class, which contain bureaucracy, workers and poor. Bureaucracy can learn limit knowledge which made knowledge less valueable than kingdom period. The third section in unclearly class divide which has wealth people, middle class and poor. In this period, both middle class and wealth people can learn knowledge if they pay for it. The last section is present day. Technology time, informations are free online.
Student 4
Answer: The information was very valuable in the past for example the kingdom, it was very clearly that just the king have as much as possible information. But now it's 2013 all the information you want to find is free no. you can find it online. So the value of information has been changed.
valuble /
1. very / kingdom, clearly divided / just king
2. less value / clearly divided / bureaucracy,work class, poor
3. can be purchase / less clearly / wealthy people, middle, poor
4. Free (almost 0 value) / NOW, just free / info free
2. Dan Brown mentions that we are in the midst of a revolution. In what ways does he demonstrate this revolution (music industry/government/business, etc.)?
Student 5 
Dan Brown mentions three revolutions: music industry, government and business. He demonstrates that people embrace iTunes to music. He thinks that government should be more transparence because government can share more knowledge with people. In addition, Brown compares the business Dilbert and Gloogle. He thinks that current business should be more like Gloogle which has good environment.
Student 6  
As time goes on, A lot of things, such as music, government and business are changing. In terms of music, music industry has embraced Itunes, which implies people used to buy records in music stores, but people nowadays tend to buy music online. Also, governments are taking significant steps to our transparencies, which means governments are far more opener to public. As for business, companies nowadays would pursuit the model of google rather than rigid business style in the past. Overall, those revolutions are happening at present society.
Student 7  
Dan Brown think our society is in the midst revolution, he thought there were three groups. First, many people do not buy CD to listen music, they prefer to buy or listen music on iTuns. Then, he thought government is become more and more transparence. Because people could get more information than before. Finally, he mentioned people's working environment is become different. For example, people work in "Dilbert", which means people just sit in front of the computer in a box and after they done their work, they could go home. But now people work easy and comfortable such as Google.
3. What were his experiences of university education and how does it differ from what he believes universities should do?
Student 8 
In Browns university experience, only one professor teach 200 students in a class, the professor did not remember each of their name or have interaction with students. The professor only use Powerpoint to show the facts and test students how many facts they memorized. In Brown's opinion, all the facts taught in class can be found online and they're "free", he is paying money for something "free". More over, he think what university should do is not provides facts and information to students. University is stopping creativity of students. Brown believes that university should encourage students to be creative and "empower students to change the world for the better."
Student 9 
The guy mentions that there are almost two hundreds kids in a class with one professor. In addition to this, he costs a hundred dollar every class on textbook but he would never open it. Because he considers that it is much better and easier to find information online. Also, he illustrates that in class, there is only one professor who uses Powerpoint to tell students some fact and students receive grades based on how many facts they memorize. There are some differences between his beliefs in university and nowadays such as, he thinks that education should provide students with facts, is not preparing students for the real world. University should not stop creativity.
Student 10
According to his experiences of university education, he think university education is almost 200 students in a lecture teached by one professor and professor just teach facts to students used PPT, even don't remember their names. He cost $100 per class on textbook, but he never open it because this facts easier to find in internet. He think university education is students take notes from PPT and recevies grade based on how many facts they memorize. But society didn't care about their facts because these facts are free online. He think university should preparing students for the real world, university shouldn't stop students' creativity and Empower students change the world for the better.
4. Dan Brown makes a number of very good points. We as critical thinkers, however, need to evaluate these points for validity. What opposing arguments has he not addressed? How might we argue against his ideas?
Student 11 
During Dan Brown's vidio, he mentioned that the institution education paying much more attention on teaching facts which are free online than teaching creativities recently. He suggested university need to change, they have to follow the revolution. But the bias is, if they do not teach facts, then how can we creat new things? Fact is the basic for everything which is unchangable in institution education. Also, someting cannot be created, such as the lecture of history and phsyics. He also argued about the blackbord which I think is important to the institution education, such as math teacher need to use it to give the solution to students. Sometimes, old fasion make the essential affect.
Student 12 
The major point of Dan Brown is that education does not prepare students for a real world. The reason is that it is based on facts, which are free. I do not agree with him because without facts, we cannot create something. They are a base for critical thinking. Also, today's education provides us enough critical thinking because people have a lot of inventions in the 21st century in the area of science and technology. Moreover, if all facts are available online, it is more difficult to be creative because a person cannot show it. Finally, it depends on professor and his method of teaching.
Student 13 
Dan Brown thinks that institutional education is not helpful anymore because it is easy to find what schools give on internet. He also mentions that schools does not prepare students for real life because it does not teach how to think creatively. However, he misses some points. Proffessors give facts but it depends on students to think critically and make an effort. Otherwise it will not change your grade. it is true that he says grades are based on how many information you include but, if he would add his thinkings he would get higher marks. Therefore, In my opinion it depends on the student to make a difference and to prepare himself for real life, because it is not completely proffessors job.
Student 14 
As the talker mentions the point that universities only teach students the facts instead of creativity, as far as I cam consider it is unconvincing. First all the creativity is based on the common knowledge, without the basic science of physics how Edson invent lights. What is more, not all the professors only teach the facts, in fact, many teachers think highly of the development in critical thinking. For example, in political science course, most professors encourage students debate the previous opinion and put forward the new ideas.