Play video until 1:35.

Stop.
Ask students what the video depicts.
Start over. Ask students to individually write down as many of the activities shown through the video as they can. For example,
Two people meet on a boat.
They seem to get along since the guy laughs.
A guy, Paul, writes his phone number in the novel.
Play the video again until 1:35. Stop.
In pairs or small groups, ask students to collaborate on the order of events they've noted.
Play the video again from the beginning. Stop after each event. Go over useful language together. Elicit what activity comes next. Repeat.
Play until 1:35. Ask students to predict what will happen next.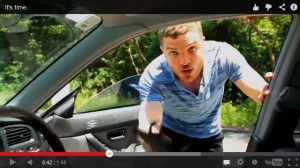 Play the ending of the video.
Discuss as you see fit.
Further reading: The Advocate, November 27, 2011