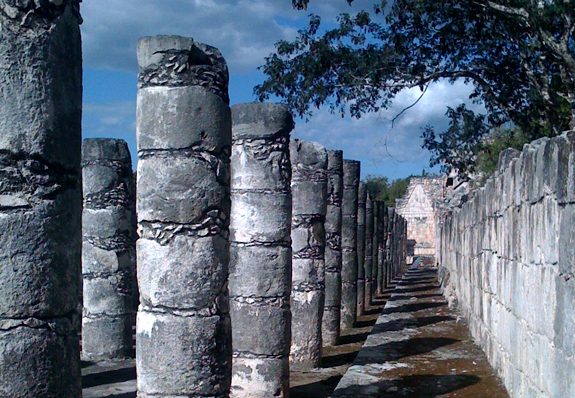 People say beautiful, succinct, powerful sentiments all the time that I want to remember.  I wish I had a pen and a notebook at these times.  On occasions I do, but I forget to use them. As a result, I rarely remember the who, but I don't forget the what.  Thank God for Google: it can come in handy for challenges like the one Brad Patterson just urges.
What quote "embodies your attitude [towards teaching]and then tells us why"?  Wouldn't you know it, but my mind draws a blank, except for one that I use in various places and always remember, yet cannot find the source.  I take it back, Google.
"Knowledge is a social construct, never absolute; it must be continually questioned and challenged if it is to continue to be valid."
I've always embodied this sentiment, to a fault. My frustrated parents would 'ask' me irritatingly, "why do you have to question everything?!" My response always was "because how do you know it's right?" I wanted explanation, collaboration, discussion of all possibilities.
This quote sounds like something Ghandi or maybe Kant would say, but I can't prove it. It was hand-written on a random handout I had during my TESL training, spoken by my tutor at the time, referenced to someone I'd forgotten by the time my pen had lifted from the paper.  The closest I've come to finding it in a book is in Kenneth Bruffee's Collaborative Learning: Higher Education, Interdependence and the Authority of Knowledge.  A good read–I recommend it.
It relates to everything I've always believed: there is no absolute right or wrong. Everything changes and adapts, even truth. Take beliefs about health over the last 500 years. At one time, if your vision was blurry or you had consistent headaches, you may have been possessed; if you were a woman with abilities beyond what you were expected to have (e.g. you could move a car with your mind…just kidding), you were a witch.  Take diets.  At one time, stop the insanity was the diet that worked.  What does now?  Balanced nutrition and exercise? Horse phooey…just kidding.
Take teaching. Grammar translation, audiolingualisim, PPP, the lexical approach, task-based teaching, dogme, CLIL—what's socially agreed upon as the most effective method/approach/<insert term here> changes all the time. People question what is right all the time.  We keep discussing it, finding flaws and merits. We don't simply accept.  And this is good.
At some point, we build together through experience and sharing what we agree to be our knowledge and we work with this knowledge.  Until one day, we question it all over again.  And I love this process–one which I try showing the value of to my students.