Love & evolution
Two words related to teaching throughout my career
Without one, I dread the class day ahead; I count the minutes until class ends; I like nothing I use in class. One cannot last long without the other. 
When one is missing, I choose to change: accept a new challenge, engage in new opportunities to collaborate, teach something different, and teach something differently. Lately, I have been flirting with burnout and need a break, but I also need a plan as the academic year approaches after my break, and have decided to adopt a snazzy new mantra: evolve teaching.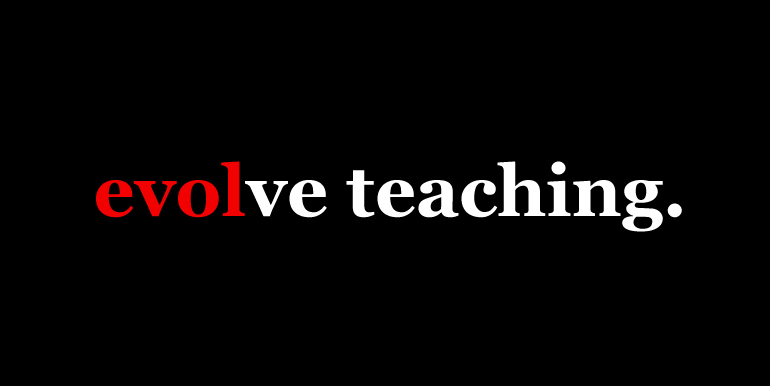 Accept a new challenge
You may have heard of ARC or academic reading circles–it's been a prominent feature in my life for some time now. I love employing them with my students. I love the improved textual understanding they promote if done well. But honestly, the workshops, webinars, blog posts and video posts I've done over the last few years have become a wee bit repetitive. It's a strange sort of product-promotion without an actual product. I talk about them, giving short examples, but without anything concrete to give beyond a handout and some blog posts to those to help them implement teachers in their classes. Consequently, it's time to go full-steam ahead this fall putting together an ARC ebook, if all goes well, through the round. It's the first time I've written for this platform and I look forward to the feedback I get to revise it, find a voice that works, and be able to refer those who want to try them out to something other than just a few posts.
Engage in new opportunities to collaborate
An interested colleague, perhaps even more invested in blended learning than me, proposed a collaborative research project involving the movement of ARC online–something I honestly hadn't given much priority to before. Suddenly, new life is breathed into this project and possibilities abound. It's the first time I'll have participated in formal research of this kind. I smell a dissertation topic in there somewhere. Yep, the MA will finish up this year too.  Thank God.
Teach something different
It doesn't have to be completely different, nor even for an entire term. The point is just to get out of my comfort zone i.e. rut. #30GoalsEdu
I had an idea during the summer while I was observing teachers (I manage an 8-week summer ESL program between academic years): many teachers never get the opportunity to observe each other after they complete their initial teacher training practicum. Peer observation is regularly written about, but in my teaching experience, rarely operationalised. Why is this so difficult to do? It's not; we just get sidetracked by the day-to-day.
I paired teachers up, assigned half the class time to one to teach and half to the other, gave them a few guiding questions to consider while observing, and called it Tag-team Teaching Day. It's startling the insight into your own teacher presence, lesson organisation & approach, and dynamic with students you can get by seeing what your colleagues do. Afterwards, we all came together as a group afterwards, giving pairs time to discuss their observations, and time as a group to collaborate on class situations they encounter. 
I'm inspired now to try this out with my own teaching colleagues, those who teach the same course as me or those who don't–ideally both.
Teach something differently
The idea of flipping the classroom permeates blogs, Youtube videos and even its own Twitter chat. The basic idea is that the teacher creates a video or podcast of the instructional-side of the class so students can watch it on their own time. Then the traditional homework is done in class. The value is in the time available to thoroughly practice the skills with the teacher present. With reading & writing, there's always so little time to actually do deep reading or longer writing in class, so I suspect it's a good fit. I'm going to try it. And I'm going to get my colleagues to try it. We'll either love it or leave it. But either way, it's a fresh way to do things for me, my colleagues and likely my students.
In the end, these new endeavours (and many others to come I'm sure) invigorate, inspire and excite me–emotions needed to feel the love again, evolve what I do again and help me grow again.
But first, it's time for that much-needed break from all things ELT and social media, neither of which I've shut off completely for several years. My one-week blackout begins NOW!