If you haven't yet read Part 1, please do so now.
In this post, I aim to examine how the History course professor, my colleague, and now very good friend, Dr. Alexandra Guerson, and I collaborated more specifically, with regard to how our assignments connect to each other, as well as the affordances we have from working together than alone. Alexandra also discusses this here about her assignments.
Connecting explicitly to the content course
Another consideration in building my assignment was how to connect this to the History course beyond simply scaffolding how to read texts for the most meaning. We do not use the same texts as the History course anymore because we found that the types of sources used there were not wholly appropriate for language learning purposes (some are very long; others are written very long ago, etc.) and we did not want to encroach much into History content as the place to discuss historical concepts with most accuracy is inside the History course itself with its instructors.
Continue reading »

Part 1: Setting up assignments
On several occasions on this blog, I've been discussing the nature, execution, and impact of collaboration between people in the ELT environment. In the next three posts (Parts A, B, C), I'll be focusing on the benefits and results of an ongoing collaboration of assignments between two courses in my program at the University of Toronto that all my EAP students take:
| Description | Course 1 | Course 2 |
| --- | --- | --- |
| Course | IFP100Y1Y – Themes in World History | IFP020Y1Y – Critical Reading & Writing |
| Description | a first-year credit course | a non-credit EAP course |
| Curriculum designer | Dr. Alexandra Guerson | moi |
In a true sense of collaboration, Alexandra and I will both be writing three linked posts on the different aspects of this collaboration: foundational, collaborative, and results. Aside from having worked together over the last seven years, this series derives from a talk we gave at BALEAP last April entitled "Interactivity between a first-year content course and EAP course assignment for skill transferability". In today's post, we situate the collaboration in terms of the foundational aspects of our program and how our two courses align with each other, with an example assignment in my course that scaffolds skills in hers. You can skip over to her post here if you like.
Continue reading »
I've wanted to use Serial in class since I first listened to it. But first.

A little background first
Every year, one curriculum assignment is a quasi-extensive reading book club with students (I say 'quasi' because of a few items I'll get to in a minute). For reading, students typically have stuck to required content only (i.e. for their credit course and those we selected for their ARCs and research projects). The purpose of this assignment originated because of this: we value reading a lot to improve vocabulary, notice grammatical patterns, highlight differences in genre AND that reading shouldn't always be a chore.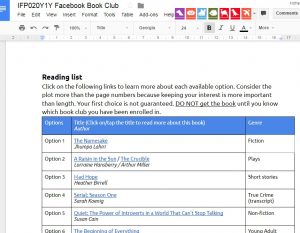 With little time –inside– the curriculum and classroom instruction to cover more reading in detail, we collectively decided to create a book club conducted solely through Facebook groups with a 5% overall mark attached. Since each instructor has a defined group of students (one or two sections of around 15 students each; we have 300+ students in total in this course), opportunity to select a book of their choice wouldn't  be possible if each instructor forced only one book onto just their group of students. Increasing interaction between different groups of students and instructors was a factor, while not significantly increasing instructor workload.
Continue reading »