I've wanted to use Serial in class since I first listened to it. But first.

A little background first
Every year, one curriculum assignment is a quasi-extensive reading book club with students (I say 'quasi' because of a few items I'll get to in a minute). For reading, students typically have stuck to required content only (i.e. for their credit course and those we selected for their ARCs and research projects). The purpose of this assignment originated because of this: we value reading a lot to improve vocabulary, notice grammatical patterns, highlight differences in genre AND that reading shouldn't always be a chore.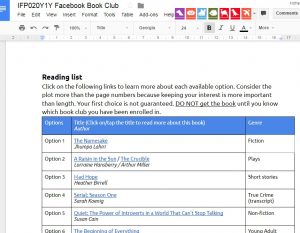 With little time –inside– the curriculum and classroom instruction to cover more reading in detail, we collectively decided to create a book club conducted solely through Facebook groups with a 5% overall mark attached. Since each instructor has a defined group of students (one or two sections of around 15 students each; we have 300+ students in total in this course), opportunity to select a book of their choice wouldn't  be possible if each instructor forced only one book onto just their group of students. Increasing interaction between different groups of students and instructors was a factor, while not significantly increasing instructor workload.
Continue reading »
As much as I love and value collaboration (it's one of the 4Cs I picked out as major components to my profession after all), I have some challenge with getting students to value it quite as much. My colleague often tells me her stories of true collaborative writing when pairing up with her research partner to write a paper like this.
It may be worthwhile at this point to define "collaborative writing" as I see it: beyond individual writing, it's more than one person working together on a piece of writing in order to produce a cohesive whole where every contributor takes ownership over the whole. Beyond this, definitions can be a bit murky.
Continue reading »
It seems the target reader for ELT blogs like this one is on our minds lately (see Joanna Malefaki or Sandy Millin's posts). I have to admit that I'm a bit across the board on writing for a target reader depending on my topic at hand (ahh, the struggle with having your hand in several  honey pots, so to speak). Some questions do arise: Do we simply hurl our thoughts about classroom experiences, pedagogical principles, and language teaching debates into the vastness of the ELT social media sphere? Or do we tailor what we say to a particular reader? Generally, I'd like as many interested people read as possible and include their ideas, so I share posts on a number of social media sites with varying taglines or hashtags (e.g. #tleap, #cdnelt, #eltchat, #tdsig, etc.) across several days. But recently, I've begun considering what the implications are on perhaps my most unexpected reader: students themselves. 
Continue reading »