Currently viewing the category: "Listening"
A couple of years ago I listened to a keynote speech delivered by Dr. David Mendelsohn (York University, Toronto), which caused me to remark his name, not because the content was particularly thrilling, but because he was a local. A few years after that, during research for an MA paper, his name crossed […]
Continue Reading

→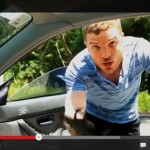 Play video until 1:35. Stop.
Ask students what the video depicts.
Start over. Ask students to individually write down as many of the activities shown through the video as they can. For example,
Two people meet on a boat. They seem to get along since the guy laughs. A guy, Paul, writes his phone number […]
Continue Reading

→
Note to readers: This post is based on "an Open Letter to Educators" by Dan Brown, which was first referenced in this post on critical thinking. The content of this post is a follow-up activity to this video we used in class and is addressed to […]
Continue Reading

→