Currently viewing the category: "feedback"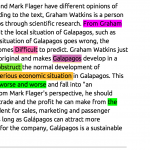 NB: Let me preface this post by saying if you have never touched a Google doc before, you may want to watch a quick Youtube tutorial on the subject first, like this. You won't regret it.
My first workshop of the year is coming […]
Continue Reading

→
We learned. We did learn, in a spirit of vengefulness: we would give Mr. Erskine no excuses. There was nothing he wanted more than to get a foot on each of our necks–well, he would be denied the pleasure, if possible. What we really learned from him was how to cheat. It was difficult to fake the mathematics, but we spent many hours in the late afternoons cribbing up out translations of Ovid from a couple of books in Grandfather's library–old translation by eminent Victorians, with small print and complicated vocabularies. We would get the sense of the passage from these books, then substitute other, simpler words, and add a few mistakes, to make it look as if we'd done it ourselves. Whatever we did, though, Mr. Erskine would slash up our translations with his red pencil and write savage comments in the margins. We didn't learn much Latin, but we learned a great deal about forgery.
Continue Reading

→
May 24, Victoria Day, is fitting for a celebration in Canada.  It's not only Queen Vickie's birthday though, this blog turns 1 today!  Sure, it's hardly a fair comparison between the longest reigning monarch and TESLtree/eltrie, but one that is memorable just the same – […]
Continue Reading

→