Currently viewing the category: "#EAPchat"
A couple of years ago I listened to a keynote speech delivered by Dr. David Mendelsohn (York University, Toronto), which caused me to remark his name, not because the content was particularly thrilling, but because he was a local. A few years after that, during research for an MA paper, his name crossed […]
Continue Reading

→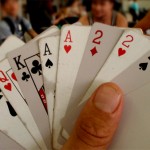 I'm a fan of cards. When I get together with my family for the weekend in my hometown, I look forward to us getting together to play cards. In highschool, cards were a huge part of spares, lunch time and a way to kill the day to tunes at picnic tables in summer. […]
Continue Reading

→
Have you heard of #EAPchat yet? It's going into Year 2 on February 4th and I've made some changes.
Our chat began a year ago, and takes place the 1st and 3rd Mondays of each month (mostly) from 1pm-2pm Eastern Standard Time. While we are still finding our online footing, I'm proud of the community […]
Continue Reading

→