Currently viewing the category: "collaboration"
For many of us, the academic year has come or is coming to a close and with that the busyness of wrapping up meetings, grading, and making difficult decisions. Yet amidst this organised chaos, uniting a course's team of teachers for professional development and curriculum debrief best happens here while the year is fresh in our minds. […]
Continue Reading

→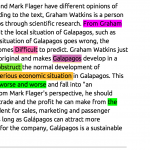 NB: Let me preface this post by saying if you have never touched a Google doc before, you may want to watch a quick Youtube tutorial on the subject first, like this. You won't regret it.
My first workshop of the year is coming […]
Continue Reading

→
Love & evolution
Two words related to teaching throughout my career
Without one, I dread the class day ahead; I count the minutes until class ends; I like nothing I use in class. One cannot last long without the other. 
When one is missing, I choose to change: accept a new challenge, engage in new opportunities to collaborate, teach […]
Continue Reading

→