Currently viewing the category: "collaboration"
Part 1: Setting up assignments
On several occasions on this blog, I've been discussing the nature, execution, and impact of collaboration between people in the ELT environment. In the next three posts (Parts A, B, C), I'll be focusing on the benefits and results of an ongoing collaboration of assignments between two courses […]
Continue Reading

→
For many of us, the academic year has come or is coming to a close and with that the busyness of wrapping up meetings, grading, and making difficult decisions. Yet amidst this organised chaos, uniting a course's team of teachers for professional development and curriculum debrief best happens here while the year is fresh in our minds. […]
Continue Reading

→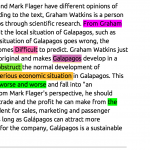 NB: Let me preface this post by saying if you have never touched a Google doc before, you may want to watch a quick Youtube tutorial on the subject first, like this. You won't regret it.
My first workshop of the year is coming […]
Continue Reading

→